Creating and Managing Work Orders
---
Share feedback
Thanks for sharing your feedback!
In Mobileforce FSM, Work Orders allow users, typically in an Agent role, to group sets of related (child) Service Tasks to better organize and manage your tasks. Work Orders are optional, as organizations can use work orders for all Service Tasks, some tasks, or no tasks at all.
The information for an order is collected from the customer, typically by an Agent, who will also create or associate Service Tasks with the order.
Example
For a company that provides computer and network services, a Work Order could be created for the installation and configuration of a new database server.
The Work Order, "Install Database Server for Smithfield", could have the following child Service Tasks:
Install and Configure the Server - assigned to a technician with Network Specialist skills.
Migrate Database - assigned to a technician with Database Administration skills.
To create, edit, or review Work Orders, from the Field Service menu, select Work Orders.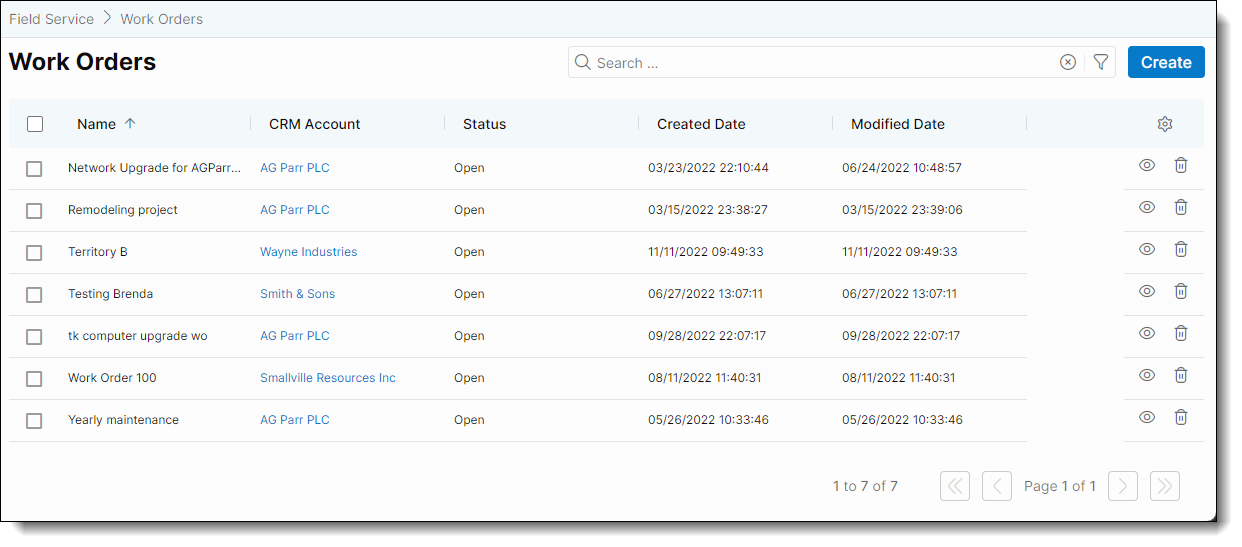 Work Order Menu
From the Service Task menu, you can do the following.
To create a new Work Order, click the + Add button.
To edit an existing order, locate it in the table and click the button.
Click the icon of a field of an existing order to edit that field.
Filter the table to show only the results you need. For more information, see Filtering Tables.
Creating a Work Order
Clicking the + Add button creates a new Work Order with no information provided.

Enter the following information:
Name:
Enter a descriptive name for the Work Order.
Status:
Select the current status of the order (Open or Closed).
Description:
Enter a detailed description of the overall job to be completed, as provided by the client.
Priority:
Select the order priority from the dropdown list.
CRM Account:
Select the account from your source CRM to associate with this work order.
Editing a Work Order
When you click the

button to edit an existing work order, Mobileforce displays the task as well as any related Mobileforce FSM objects.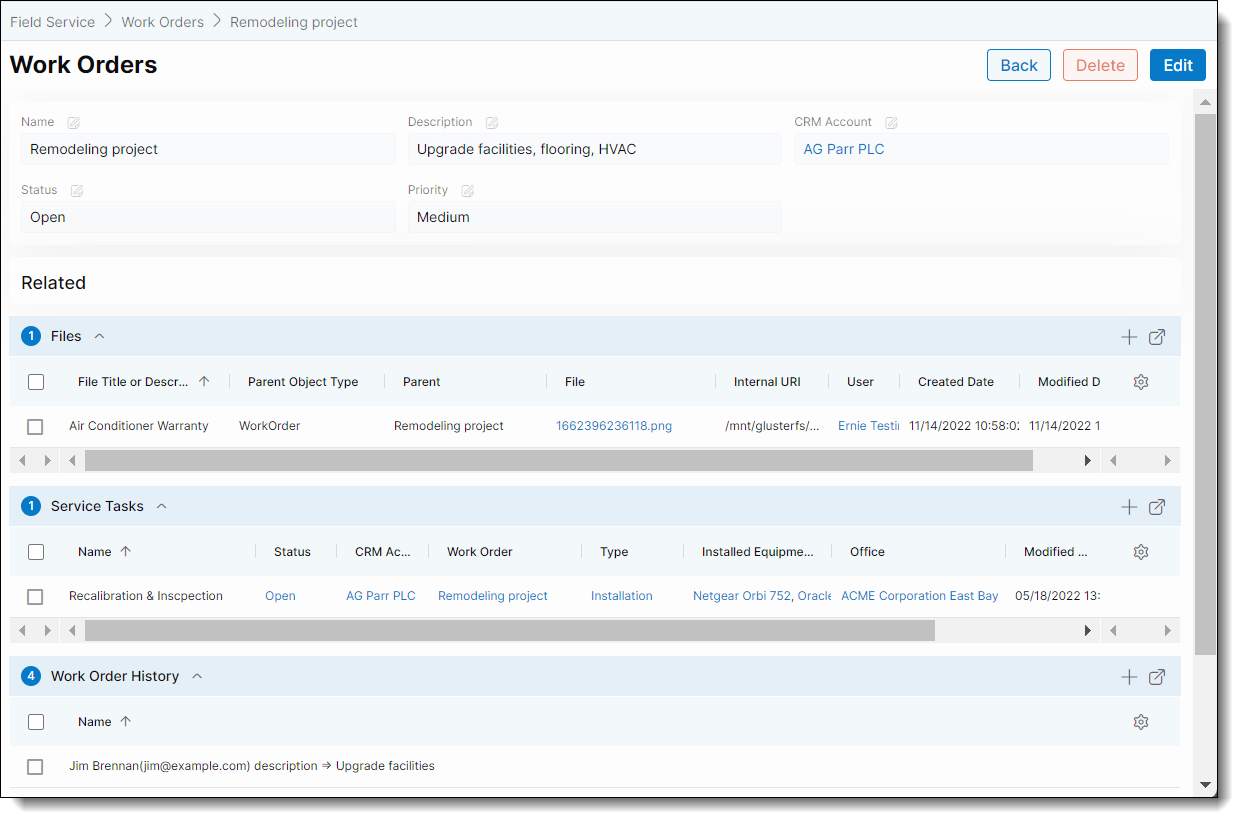 Work Order Objects
The following object sections are listed when you edit a service task. These sections are listed even when no objects of that type are associated:
Each section allows you to review the objects related to the service task. Additionally, you can do the following:
Click to open the related object.
Click to create a new object.
Click to open the table for the object(s).
---
Was this article helpful?
---
What's Next