Creating Multiple Quote Templates
---
Share feedback
Thanks for sharing your feedback!
For many organizations, the creation of a primary active quote template with a single quote layout is sufficient for their needs. All quote templates should be designed to mirror your organization's business processes, including:
Client information that sellers need to capture to complete the proposal.
Product/line item information needed to calculate the price for the quote.
The flows required to approve quotes.
If these processes cannot be captured within a single template, then Mobileforce CPQ allows admins to create additional Quote Templates, which can be simultaneously active within your Mobileforce CPQ instance.
Example:
An organization may have unique business processes for their residential customers than their commercial customers, even having unique sales representatives for each. Rather than complicating a single quote template, the organization creates separate templates, one for each customer type. This allows their sellers to focus on the information that they need to capture for the quote, rather than overloading a single template to fit every scenario.
Once activated, all new quote templates must be enabled by Mobileforce before your sellers can access them from the Mobileforce CPQ user interface. Once you have a new template that you have tested, and is ready to be used by your sellers, please contact Mobileforce Support to enable it.
Designing Additional Quote Templates
To create an additional Quote Template, Mobileforce recommends that users duplicate an existing, valid, and tested quote template, preferably one already in a live production environment.
To duplicate a Quote Template, click the

button from the Quote Template page, renaming it appropriately.
Additionally, if your new template needs updates to the user interface of the proposal/quote, you should create an additional Quote UI Layout to mirror the needs of your organization and your sellers.
Example:
A company not only sells physical products but also services (SAAS) that have unique details that need to be captured. They create a new Quote Template and a new Quote UI Layout for the sellers creating a services quote.
The Layout includes fields that detail contract information, such as start date, term, and implementation time (highlighted in yellow). Additionally, two subtables are created for both recurring line items and non-recurring line items (highlighted in teal).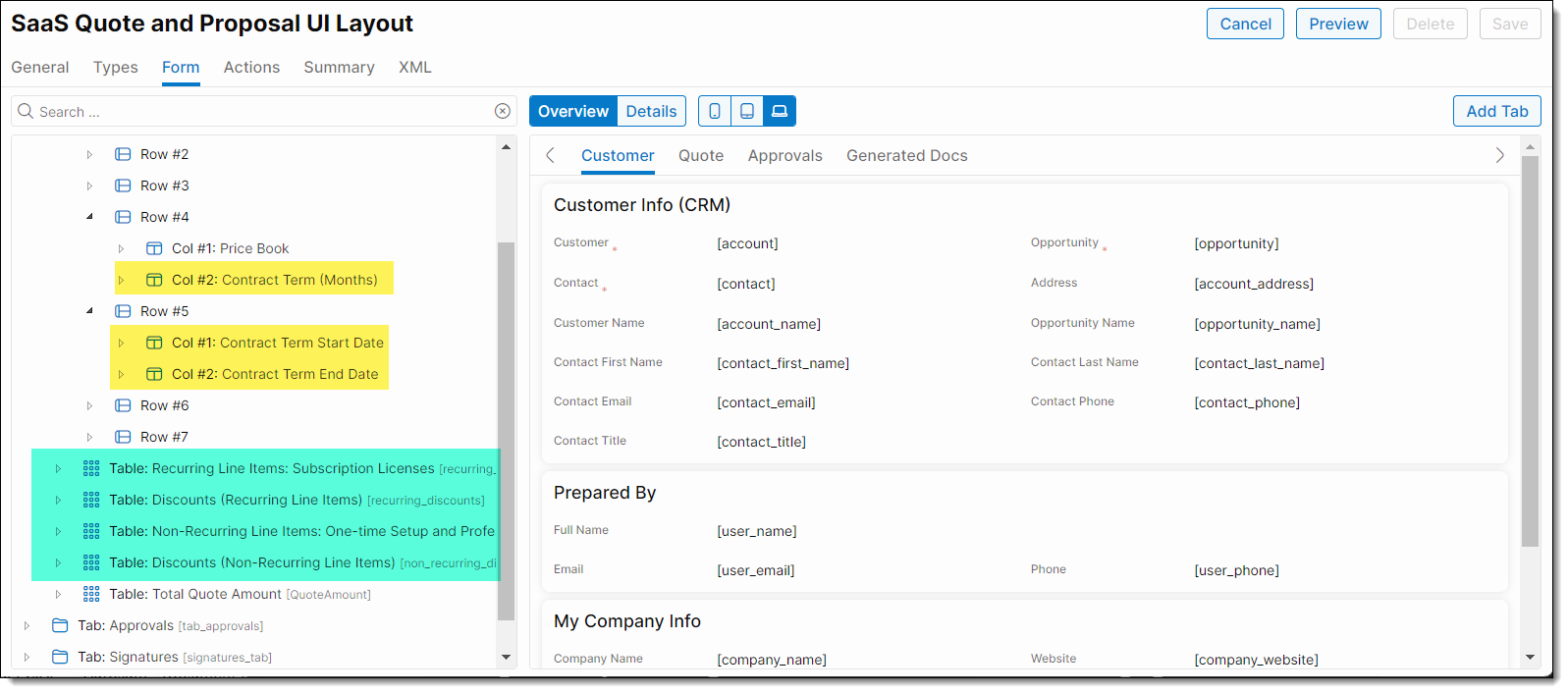 These details are also reflected in the Quote Template,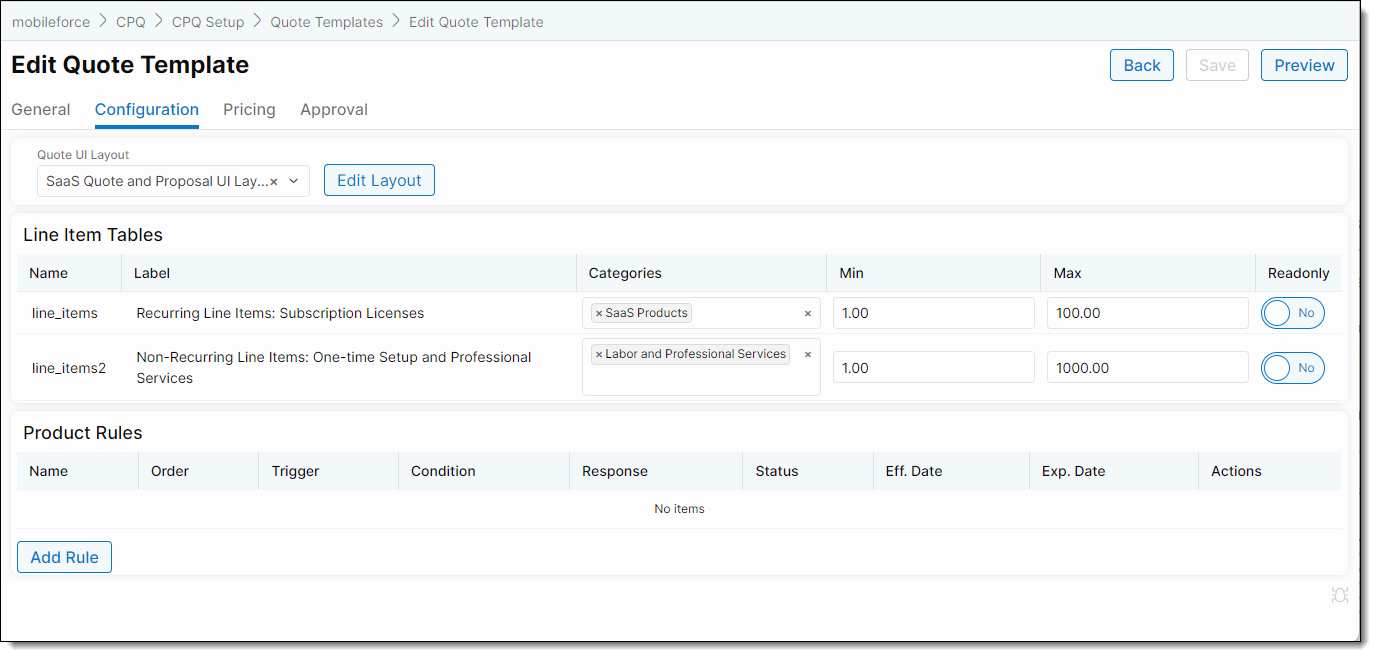 Multiple Quotes with Multiple Quote Templates
Putting it all together, a Mobileforce customer that uses two distinct quote templates (together with corresponding two distinct quote UI layouts), can then activate both these quote templates.
Finally, the customer can set up two distinct lists of quotes (one for each quote template). To do this in the CPQ User interface, you'd need to contact Mobileforce Support by email (support@mobileforcesoftware.com)
The final UI (with two lists of quotes) is shown in the screenshot below: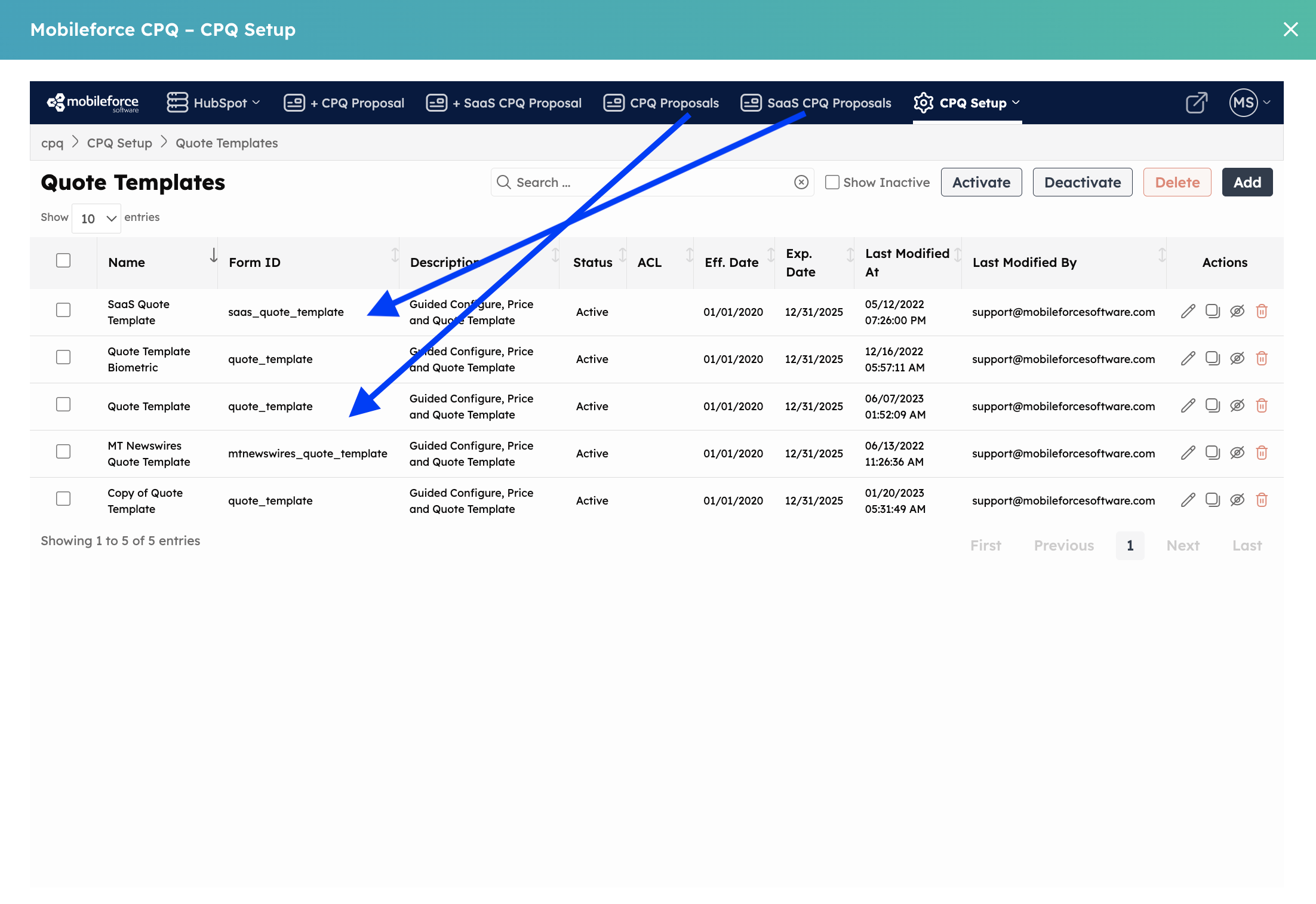 ---
Was this article helpful?
---
What's Next