How do I add work for a technician?
---
Technicians can be scheduled service tasks by dispatchers from the Schedule & Dispatch page using one of the following methods:
Select a specific task for the technician.
Use the Plug Route feature to have Mobileforce FSM add a service task based on the technician's existing schedule.
Schedule a task
Mobileforce FSM has designed the Schedule & Dispatch page to organize all dispatcher information on a single screen. Use this page to review the schedule of the desired technicians, including a map of their existing appointments, so you can then determine which task can be assigned to the technician.
You can create appointments based on the Service Tasks associated with the selected office. In the Calendar pane, ensure that the By Tech button is selected.

Note:
Additionally, you can select the task you want to assign from the Tasks pane. Mobileforce FSM displays only those available technicians whose skills match those required for the Service Task.
From the Calendar pane, select the time window for the technician, by highlighting the time. The Create Appointment window displays.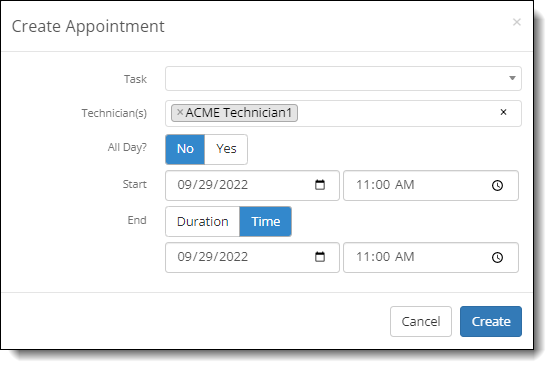 Specify the details of the appointment, and click Create to schedule it. For more information, see Creating Appointments.
The Calendar pane is updated with the time for the technician blocked off.
Additionally, an Appointment is created that can be viewed from the Appointments table. For more information, see Creating and Editing Appointments
Plug Route
When a technician has a specific time window that needs to be filled, you can use the Plug Route button to find the service task that best matches the technician, their skills, their scheduled service tasks, the location of those tasks, and the time window.
For more information, see How do I use Plug Route.
---
Was this article helpful?
---
What's Next