How do I schedule a service task?
---
Service tasks can be scheduled by dispatchers from either the Schedule & Dispatch page where you can view the schedule of all service tasks and technicians for your office or from the Appointment page.
Assigning Service Tasks to a Technician
Mobileforce FSM has designed the Schedule & Dispatch page to organize all dispatcher information on a single screen. Use this page to review the existing schedule of all technicians, including a map of their existing appointments, so you can then determine which technician is the best to assign to the task.
From the Schedule & Dispatch page, ensure that the selected office is selected and that the By Task button is selected in the Calendar pane.
Assigning the technician
You can manually assign a service task to any listed technician from the Schedule & Dispatch page, However, this does not utilize the Skill Matching capabilities of Mobileforce FSM.
In the Tasks pane, click to select the desired task.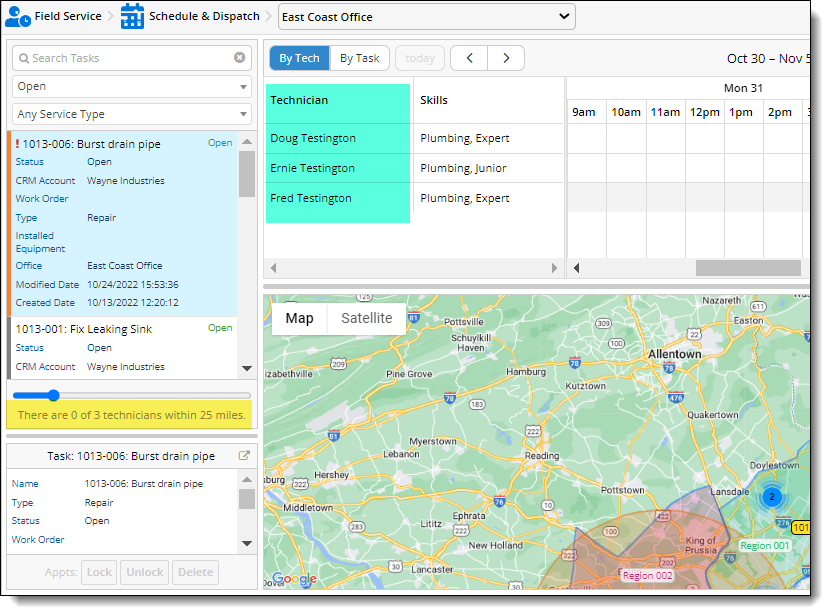 When the task is selected Mobileforce FSM does the following:
Indicates the number of matching technicians in the Tasks pane, above the task details section (highlighted in yellow in the above graphic).
Lists the matching technicians and their current schedules in the Calendar pane (highlighted in teal in the above graphic).
Shows the location of the service task in the Map pane.
Filtering tasks
If you need to reduce the number of tasks displayed in the Tasks pane, you can use filter and search features to find only the tasks you want to schedule. These tools can be used in conjunction or separately to find the desured results.
Click the Status and Type dropdown lists to filter the list of service tasks.
Example:
A dispatcher can use the dropdown lists to find all Construction service tasks that are currently open.
Enter a keyword in the search field to find all matching service tasks.
Creating the appointment
From the Calendar pane, select the desired technician's time window for the task, by highlighting the time required to complete the task. The Create Appointment window displays.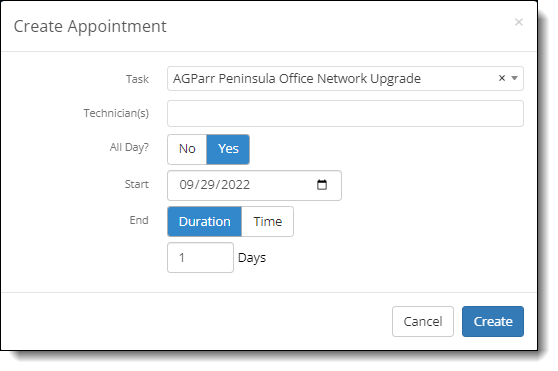 Specify the details of the appointment, and click Create to schedule it. For more information, see Creating Appointments.
The Calendar pane is updated with the time for the task blocked off.

Additionally, an Appointment is created that can be viewed from the Appointments table. For more information, see Creating and Editing Appointments
---
Was this article helpful?
---
What's Next