Importing and Exporting Products
---
Share feedback
Thanks for sharing your feedback!
By default, Mobileforce tables can be exported (and imported). To change the default behavior, and suppress export of tables, an admin can explicitly prevent exports by setting an application level property
You can batch import multiple products into Mobileforce CPQ by uploading an import file in .csv format, enabling faster batch changes to products at once, rather than making the necessary changes to each product individually.
To correctly import all of the products in batch, you must ensure that the file is formatted properly, where each row/line of the file lists a product to be imported as well as the other desired fields.
To import a product import file, from the Products page, click the Import button.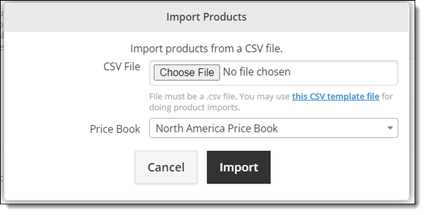 From the Import Products pop-up window, click the Choose File button to select the import file from your local system. If you have multiple Price Books, click the drop-down list and select the desired book.
The products in the .csv file are imported to Mobileforce where they can be edited, as needed, from the Products page.
Creating Import Files
Product import files are .csv files with specific headings that match the fields in the Mobileforce CPQ database. MobileForce has created an csv template that you can use to ensure that the fields are properly matched.
Download the template from the Import Products pop-up window, and enter the products using a text editor or spreadsheet program (such as Excel or Google Sheets).
Caution:
If you are using a spreadsheet program to edit the import file, ensure that you save it as a .csv file.
Additionally, you can export a .csv file of the products already created for Mobileforce CPQ, update the file with new products and import it to Mobileforce CPQ.
Exporting
To export your entire product list to a .csv file, click the Export button. Mobileforce saves the list to the default downloads directory for your browser.
You can export data to keep it as a backup, as well as edit the data in a separate application.
---
Was this article helpful?
---
What's Next