Share feedback
Thanks for sharing your feedback!
By default, Mobileforce tables can be exported (and imported). To change the default behavior, and suppress export of tables, an admin can explicitly prevent exports by setting an application level property
Mobileforce writes the UI Layouts using XML as its authoring language. Admins can export (download) Quote UI Layouts and Product UI Layouts to their local system to:
Save an unmodified copy of a layout file.
Edit the file using an XML editor (for example, Notepad++).
Admins can then import the layout file(s) to Mobileforce CPQ.
Note
Additionally, you can edit existing layouts from the XML tab of the UI Layout page. For more information see:
Exporting Layout Files
To export a layout file, click the Export link from the Quote UI Layouts or Product UI Layouts page. Mobileforce generates the file and it is saved to the default Downloads folder for your browser.
Importing Layout Files
To import a layout file, click the Import button from the Quote UI Layouts or Product UI Layouts page.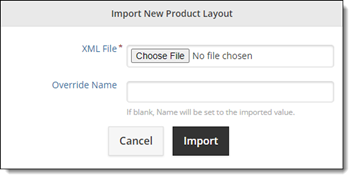 Click the Choose File button and select the import file from your local machine. From Override Name, enter the name for the file in Mobileforce CPQ.
---
Was this article helpful?
---
What's Next