Share feedback
Thanks for sharing your feedback!
The Customer Locations table and page allows users to update information regarding the service task relevant locations for each customer. This table is a related Table, of an Account object, which you can access from a Mobileforce FSM Account . See the screenshot below.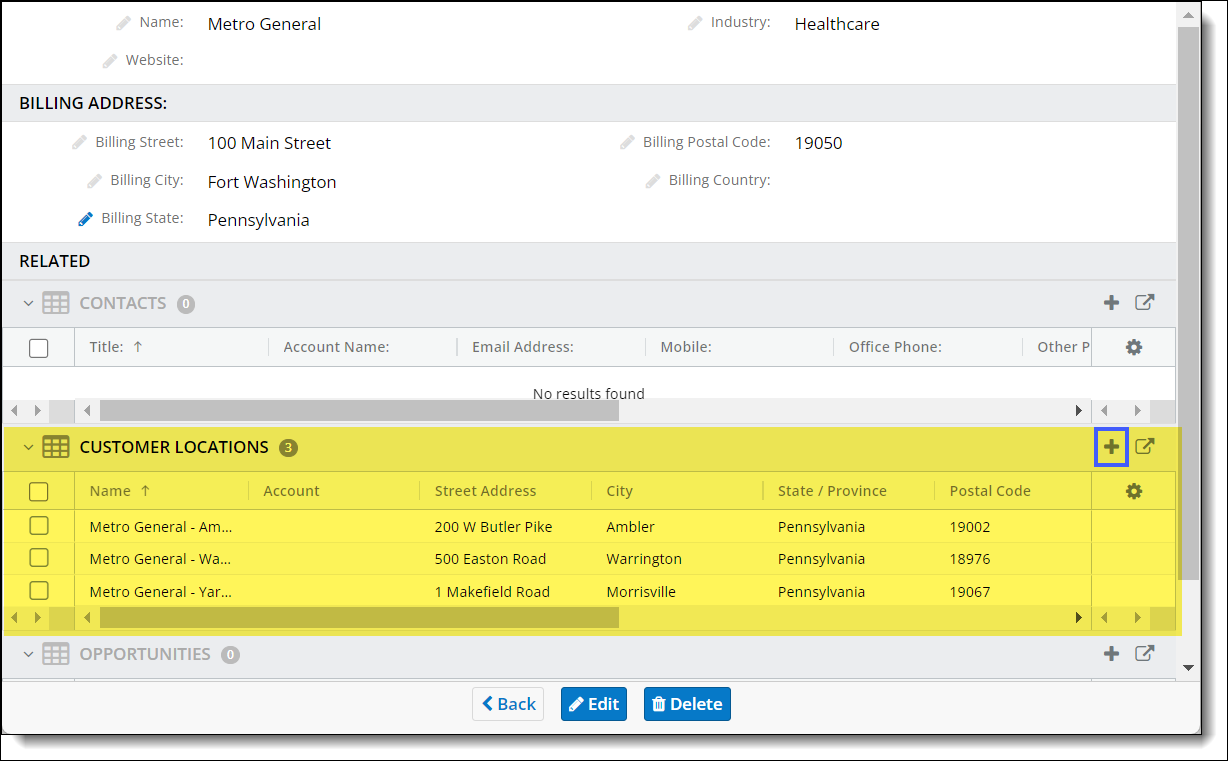 You can add entries to the table using the button (see screenshot above).
Customer Locations are used by the following roles:
Agents or Dispatchers select the customer location for service tasks to ensure that technicians are routed to the correct location.
Technicians use the customer location to map to the location where the service task is to take place.
The Customer Locations table can be viewed as a table from the Accounts page of the associated customer account. Additionally, you can click the

button to open the table in a new window.

Create a New Customer Location
From the Customer Location table, click the

button to create a new location.

Enter the following information and click

.
Name:
Enter the name for the customer location. Agents and dispatchers will use the customer location name when specifying a location for a service task.
CRM Account:
Click the drop-down list and select the CRM Account to be associated with the location.
Address Information:
Enter the applicable address information for the location. Mobileforce FSM uses this information to display the location on the map for the dispatchers. Additionally, Mobileforce FSM uses this information when dispatchers want to optimize a technician's scheduled appointments for the day.
Review or edit Customer Locations
Click the

button to review or edit an exiting location.
To edit the location, click the button.
To edit an individual field for the location, click the button for the field and then update it.
---
Was this article helpful?
---
What's Next