Share feedback
Thanks for sharing your feedback!
Block pricing describes the scenario where the more that a quantity of a product is increased for a quote, the more the flat rate for the product, regardless of quantity, increases. Typically, this scenario is defined by tiers.
Example:
A produce reseller is using volume pricing with crates of bananas, where:
1 crate of bananas costs $20.00.
2-3 crates of bananas costs $40.00
4-7 crates of bananas costs $60.00
8 or more crates of bananas costs $100.00.
So if a customer is purchasing 6 crates of bananas, the total cost would be $60.00.
Notice that the quantity (6) is not multiplied by the price ($60) for that tier. This is what makes block pricing different from volume and tiered pricing.
To configure block pricing for a product entry in Mobileforce CPQ, you must specify the following options for the Price Book entry for the product:
Select Block as the Method (highlighted in teal below).
Add two or more pricing tiers for the product:

In Start Quantity enter the quantity where the tier begins.
In List Price enter the total price for the tier.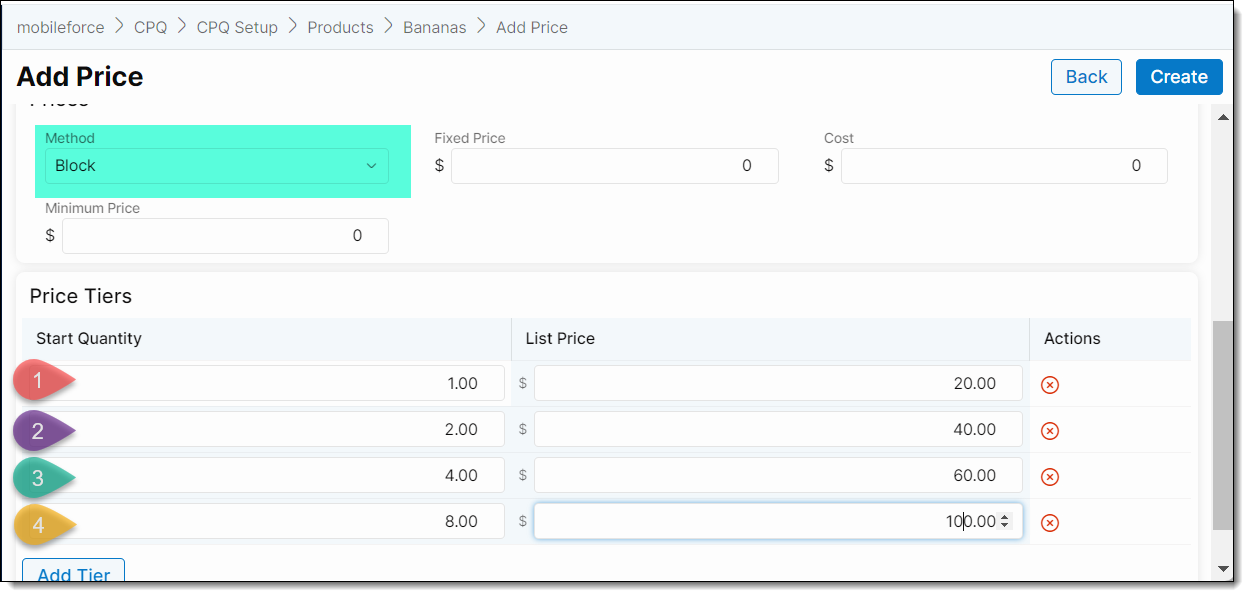 Example:
The produce reseller specifies the following tiers for banana crates:
Tier 1: Start Quantity is 1.00, List Price is $20.00
Tier 2: Start Quantity is 2.00, List Price is $40.00
Tier 3: Start Quantity is 4.00, List Price is $60.00
Tier 4: Start Quantity is 8,00, List Price is $80.00
---
Was this article helpful?
---
What's Next