Share feedback
Thanks for sharing your feedback!
The MobileForce CPQ application creates Proposal Documentation that you can send to your customers once the quote is complete and has been approved, if necessary. Proposal documentation is generated from the selected template, which reference one or more files that have been uploaded to the Mobileforce CPQ application.
This documentation is generated as a PDF file based on Documentation Templates that use source documents, typically Microsoft Word or Excel documents, that have been uploaded to the application. Then admins can create a Document Template in MobileForce CPQ that reference these uploaded files, so that they will be used when a sales rep creates proposal documentaiton using that template. For more information, see Adding or Editing Document Templates
To create, edit, and mange these files, click Uploaded Files from the CPQ Setup page.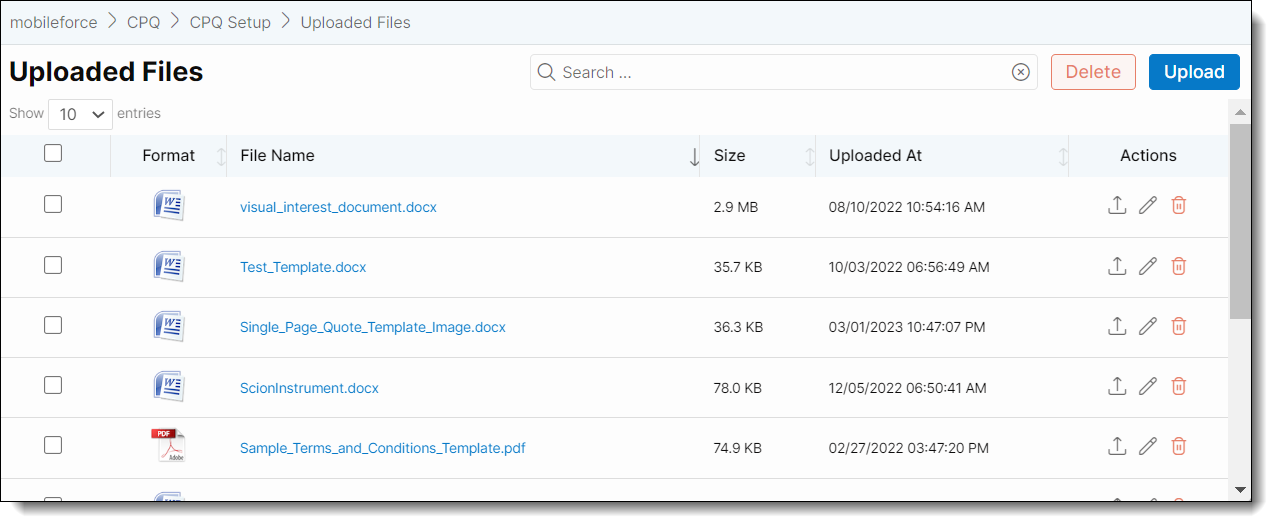 Note:
MobileForce conveniently provides several sample files that are designed to work with the provided document templates that you can use and adapt to your business needs. You can download them, modify them using Word and then re-upload them back to the CPQ system as needed.
Template file contents
The source template documents typically contain a proposal boilerplate, marketing information, customer testimonials, and legal terms and conditions.
Additionally, admins can embed OpenTBS macros into these template documents. You can use these macros to map to information from form fields in the quote. These form fields have unique names that must be referenced in the template documents, and defined in the associated Quote UI Layout.
Upload a new file
To upload a new file to the Uploaded Files page from your computer, click the Upload button.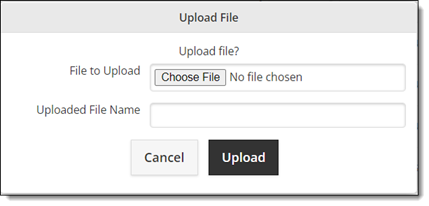 Click the Choose File button to open a browse window where you can select a file from your local system. Once you have selected a file, click Upload.
The file is added to the Uploaded Files page and can now be added to a Quote Template.
Editing and re-uploading existing files
Using the Uploaded Files page, you can open the existing files, edit them and then re-upload them to MobileForce CRM, updating the files with the newest version.
First, click the name of the file to open it on your local computer. Then you can make the desired changes and save it to a local folder when you are finished.
---
Was this article helpful?
---
What's Next