Using Mobileforce with Zendesk
---
Mobileforce CPQ seamlessly integrates with your CRM, so you can easily access the CPQ module from the Zendesk Sell User Interface as well as creating a proposal from the Zendesk Deals module.
Installing Mobileforce CPQ for Zendesk Sell
Mobileforce CPQ is a cloud-hosted product, which can be easily installed into your Zendesk software solution. Mobileforce CPQ provides two distinct apps for each use case it support. Each app must be installed from the Zendesk App Marketplace:
Mobileforce CPQ for Zendesk Sell (CRM)
Mobileforce CPQ for Zendesk Sell is designed for the sales use case, where quotes are created based on existing deals within Zendesk Sell. Click the link below to access the page for the app on Zendesk Marketplace: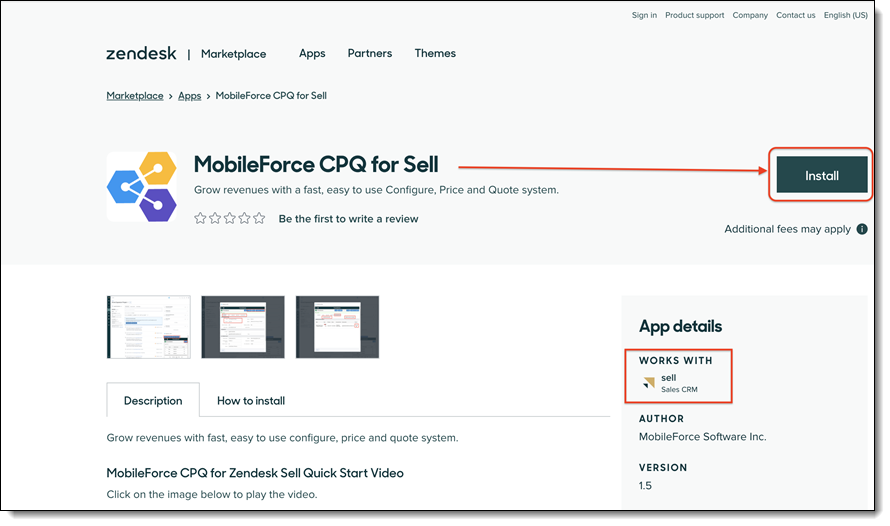 Mobileforce CPQ for Zendesk Support (Ticketing)
Mobileforce CPQ for Zendesk Support is designed for the ticketing use case where quotes are created based on tickets within Zendesk support. Click the link below to access the page for the app on Zendesk Marketplace:
Mobileforce CPQ for Support/Ticketing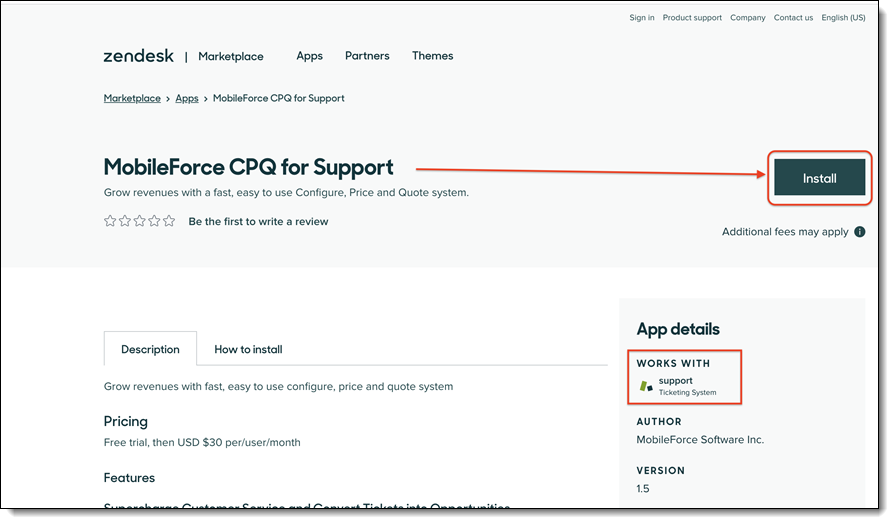 Installation Instructions
You can install Mobileforce from both the Mobileforce CPQ for Sell and Mobileforce CPQ for Support pages in Zendesk Marketplace. If you are logged into Zendesk, click the Install button to install and integrate Mobileforce into your Zendesk application.
Note:
Additionally, the installation instructions are included in the How to Install tab of either marketplace page.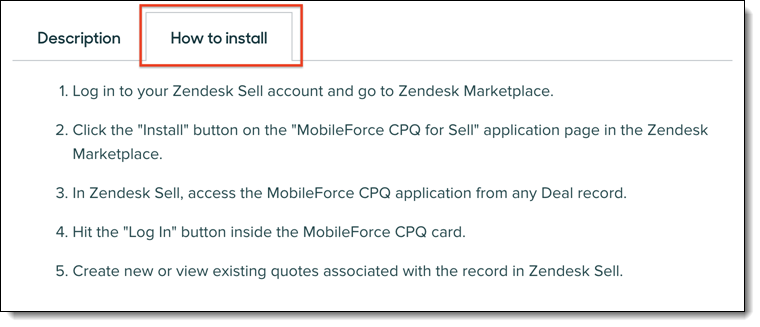 If successful, Mobileforce can be enabled and disabled in Zendesk by selecting Settings > Integrations > Apps.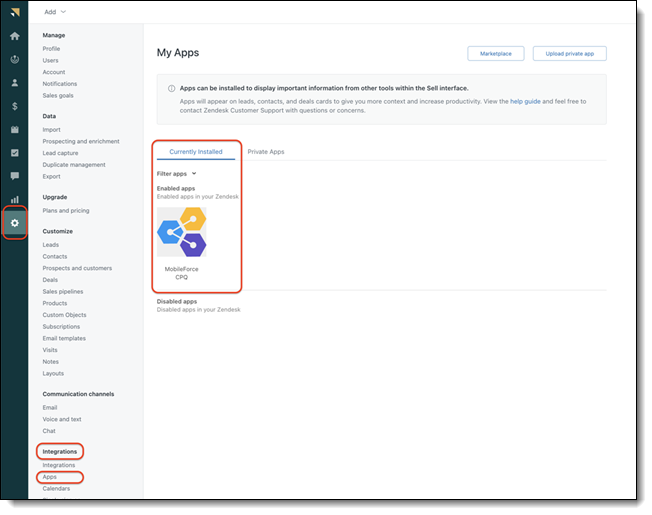 Authorizing Mobileforce CPQ in Zendesk
Before you can use Mobileforce CPQ, you would need to authorize it to access your CRM Data from Zendesk Sell. Click the Mobileforce icon from the Zendesk menu bar. The authorization page is displayed.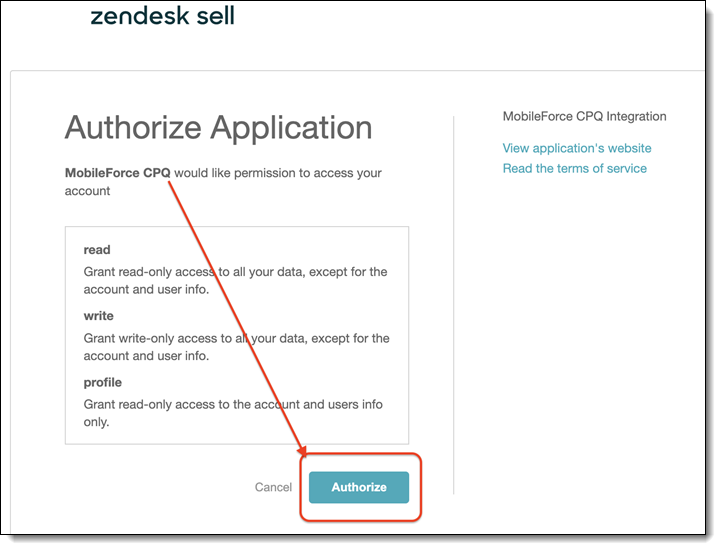 Click Authorize to grant MobileForce CPQ access (for read and write) Zendesk CRM and Support objects, specifically Deals or Tickets and Contacts. Once done, information flows seamlessly between Zendesk and MobileForce CPQ.
Note:
The data from Mobileforce CPQ and Zendesk reside on separate cloud instances, so none of the CRM or Support data persists on the Mobileforce cloud, providing you with a secure CPQ use scenario.
Launching Mobileforce CPQ from Zendesk
Once you have implemented the Mobileforce CPQ solution with your Zendesk application, you can launch the Mobileforce CPQ application directly as a module from the SugarCRM platform using one of the following methods:
Creating a Mobileforce CPQ proposal/quote directly from an existing Zendesk Deal or support Ticket, allowing Mobileforce to populate the quote with the applicable contact data.
Launching the Mobileforce CPQ application as a module directly from the Zendesk menu bar. Once launched, you can create new proposals/quotes, associating them with existing CRM deals or suppor tickets and customer information.
Opening the Mobileforce CPQ Application
When Mobileforce CPQ is installed click the

icon from any Zendesk page.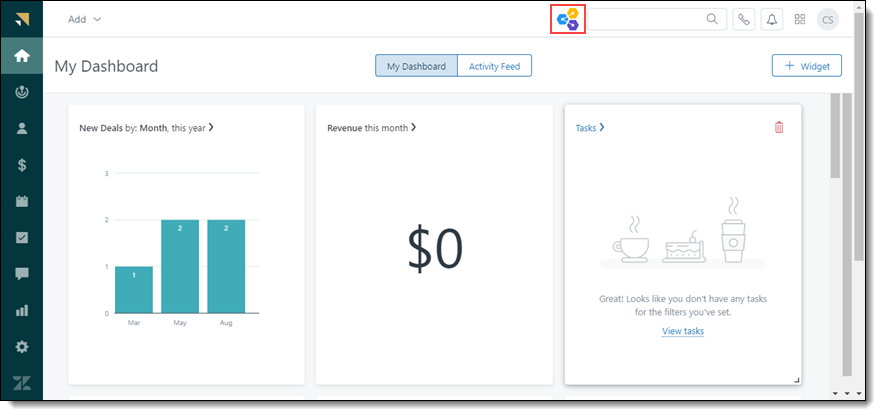 When you click the button, the CPQ main menu is displayed.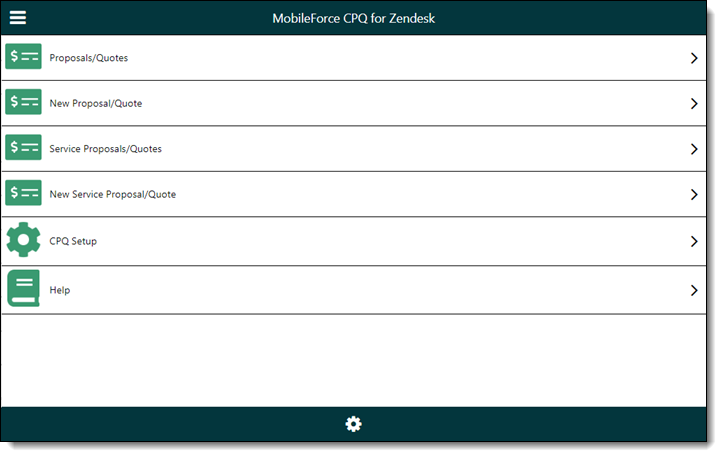 :::(Info) Note:)
By default, the CPQ main menu is displayed as a persistent pop-up window within Zendesk. Mobileforce recommends opening the application in its own tab by clicking the Open in New Tab button.
:::
From here you can do the following actions:
Creating a Mobileforce CPQ Quote from a ZenDesk object
Zendesk allow you to create a proposal directly from one of the following existing (native) module/objects:
Deals from Zendesk Sell
Tickets from Zendesk Support
Open the desired Deal or Ticket. Mobileforce CPQ is listed as a card on the right sidebar.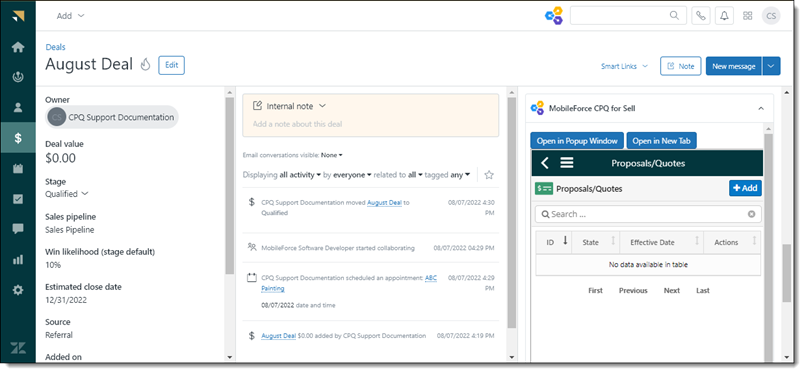 From the right pane, click the +Add button to create a new quote for the deal.
Note:
To open Mobileforce CPQ in a new tab of your current browser, click the Open in a New Tab button.
To open Mobileforce CPQ in a new browser window, click the Open in Popup Window button.
When you create the quote, notice the fields that have been prefilled from information from Zendesk Sell.
Notice how, many fields of the quote are already populated by virtue of Mobileforce CPQ reading information from Zendesk Sell objects such as contact and deal.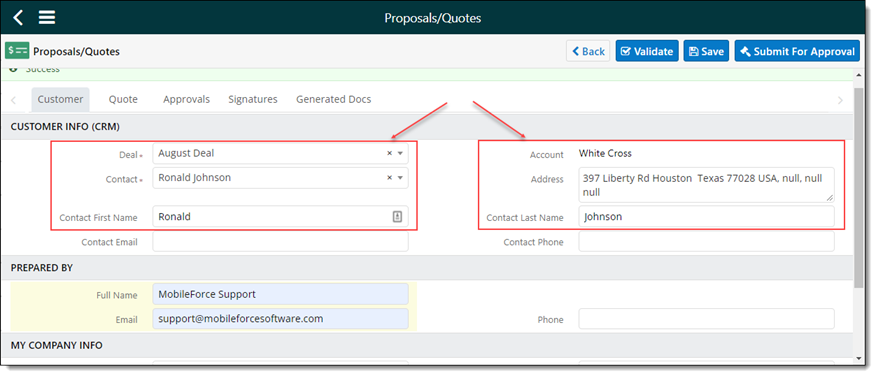 Example:
When a proposal/quote is created from a Zendesk Deal, the Deal, Account, Contact, and other fields are prepopulated from the integration with Zendesk Sell.
Note:
The prepopulated fields in the quote are determined by options specified in CPQ Setup, so if you need additional field to be prepopulated with attributes from Zendesk CRM, contact your CRM or CPQ Administrator.
Writing the Quote back to Zendesk
Once the quote is complete and approved, Mobileforce CPQ enables you to save the quote back to your Zendesk object, using the Update Quote to Zendesk button, which updates the following fields associated with the deal: Amount, Pipeline, and Stage
Additionally:
Mobileforce CPQ updates Line Items associated with the Deal
Mobileforce CPQ uploads the Quote as a PDF, generating a note in the Activity Stream of your Zendesk instance stating Quote PDF Updated.
Note:
If desired, Mobileforce Support can configure Mobileforce CPQ to not update Line-Items , or other objects and fields in Zendesk. For more information about this or any other required customization, please contact Mobileforce Support.
---
Was this article helpful?
---
What's Next