Creating and Managing Appointments
---
Share feedback
Thanks for sharing your feedback!
Mobileforce FSM uses appointments to connect Technicians to specific service tasks and the date when the service task is to begin. Typically, this is performed by users with a dispatcher role or sometimes an agent role.
Once a service task has been created, the dispatcher can create an appointment from the following pages using one of the following methods:
Use the Schedule & Dispatch page to review service tasks and technicians, and create multiple appointments. For more information, see Scheduling Service Task Appointments
Create an individual appointment from the Appointments page.
Accessing the Appointments page
From the Field Service menu, select Appointments to access the Appointments table.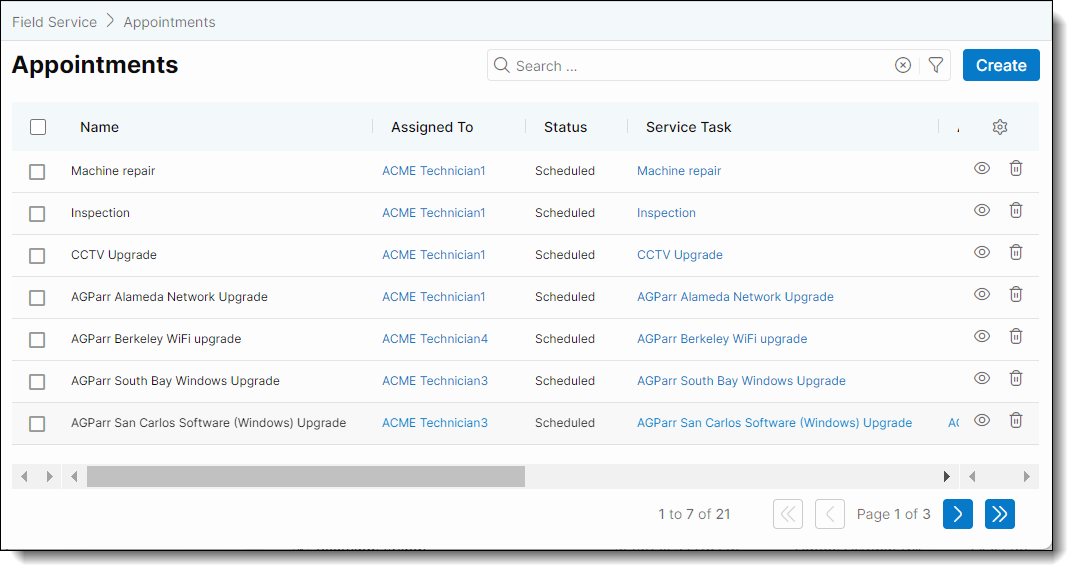 From here you can do the following:
Click the button to create a new appointment.
From the Appointments table, locate the desired appointment and click the icon to view and edit an existing appointment.
Note:
To find the applicable appointment, you may want to filter, sort, and organize the Appointments table. For more information, see Filtering Tables.
Creating Appointments
From the Create Appointments page, enter the following details and click

when finished to create the appointment.

Name:
Enter the name for the appointment. If no name is provided, Mobileforce FSM will automatically generate a random name.
Assigned To:
Click the dropdown list and select the technician to be assigned to the appointment.
Status:
Click the dropdown list and select the desired status indicating the current stage of the appointment lifecycle. By default the status is set to Scheduled.

Note
Typically, the dispatcher as well as the technician change the appointment status throughout the appointment lifecycle to indicate the current status.
Service Task:
Click the dropdown list and select the desired Service Task.
Account:
Lists the account associated with the selected Service Task.
Start Date/Time: and End Date/Time:
Click the calendar icon and select the date and time when the appointment is to start and end.
Viewing Appointments
Clicking the

icon opens the appointment so you can view it.

You can edit individual fields by clicking the icon for the field you want to change.
You can edit the entire appointment, by clicking the button.
---
Was this article helpful?
---
What's Next