Generating Signatures for your Proposal
---
Share feedback
Thanks for sharing your feedback!
Once your proposal is mutually agreed upon by all parties, and the proposal has been approved internally, if needed, you will want to have the proposal signed by all parties. From the desired quote, click the Signatures tab to review the signature information for all parties, and provide digital signatures if they are both required and are legally sufficient for your company.
Note
If the business model for your company only requires email confirmation from your customers, please know that using the Signature tab is optional for the proposal process.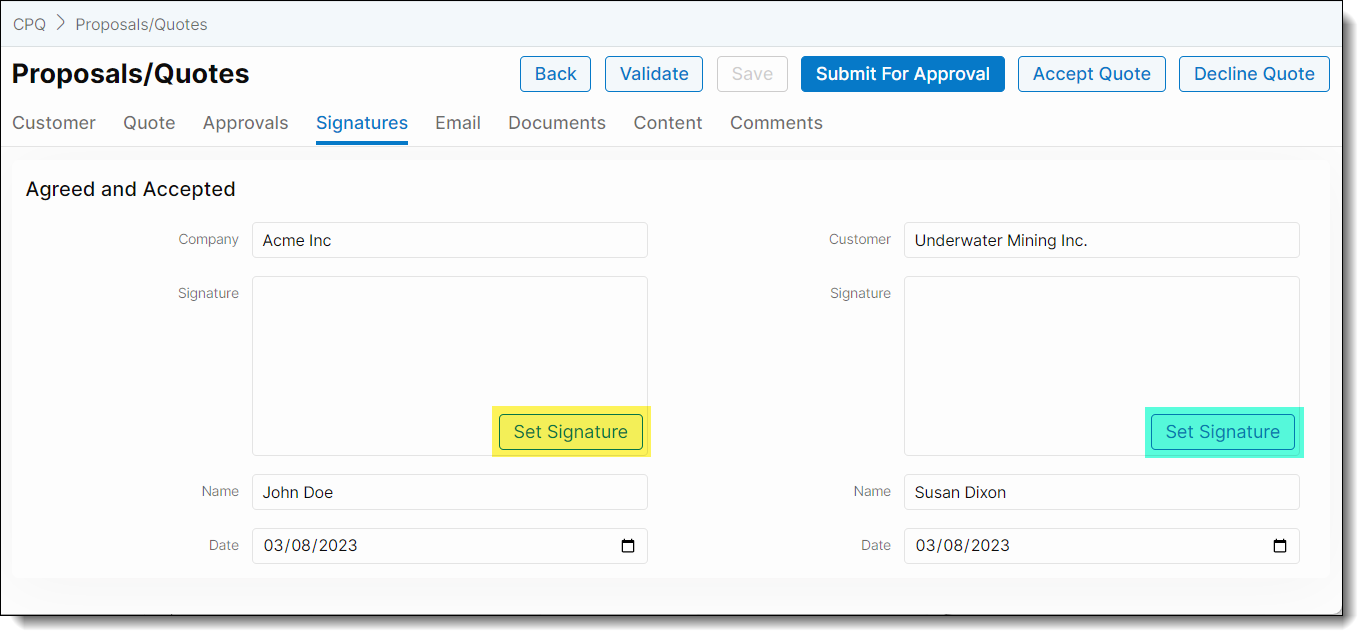 Any signatures signed on this page are automatically included in the configured sections of any proposal documentation generated from the Generated Docs tab.
Note:
Mobileforce CPQ also supports integration with 3rd party e-signatures such as Docusign, Adobe E-Sign, and Pandadoc.
For more information about proposal documentation, see Creating Proposal Documents
To add a signature
Mobileforce CPQ allows you to add both your digital signature as well as your customer's (if present).
To enter your signature, click the Set Signature button beneath the Company name (highlighted in yellow, above).
To allow your customer to enter a signature, click the Set Signature button beneath the Customer name (highlighted in teal, above).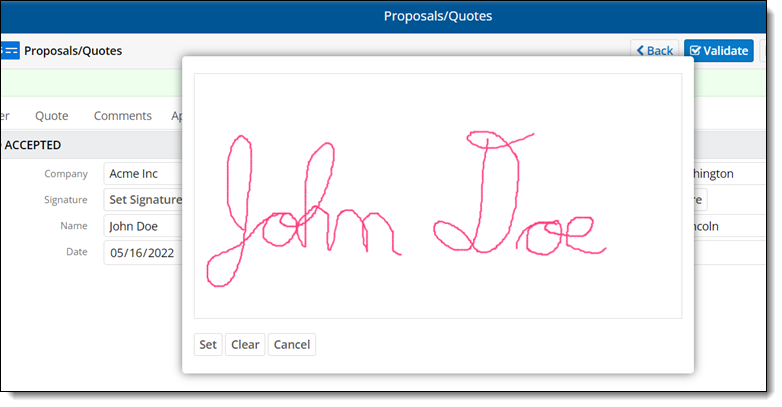 A pop-up window is displayed. Users can use a mouse, digital pen, or stylus to enter their signature and click Set to return to the Signatures page.
When you generate proposal documentation, Mobileforce CPQ populates the entered signature(s) in the applicable location in the proposal documentation.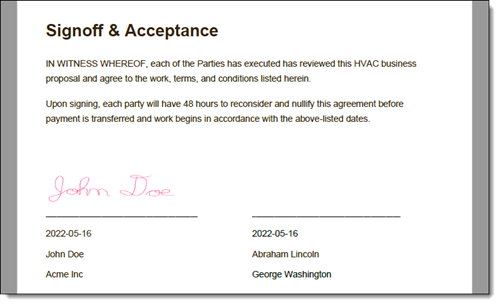 Obtaining customer signatures
If you require a signature to complete the proposal, and your customer is remote from your location, then you can send the proposal documents to your customer. Customers can then enter their signature, using available methods. For example:
The customer can print a proposal attached to an email. Then they can sign the document, scan it, and email it back to you.
You can mail the proposal to the customer, and they can sign the document and send it back to you via mail.
The customer can view a PDF version of the proposal and sign the document using a digital signature. Then they can return the proposal to you with their digital signature.
Email confirmation
When you send a propoal/quote to your customer via email, you are automatically authenticating the quote for both you and your customer. Similarly your customer's response (and print or digital signature) of the proposal/quote is authenticated when they return it to you via email.
---
Was this article helpful?
---
What's Next