Share feedback
Thanks for sharing your feedback!
If you have a product that you need to add to your CPQ application that is similar to a product that has already been created, you can simply copy the existing product and then modify it as needed.
From the Products page, locate the product you want to copy, and click its

button from the Actions column.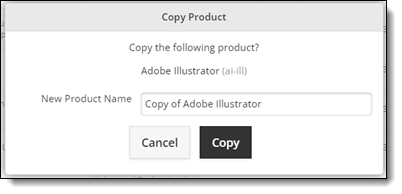 From the Copy Product pop-up window, enter the new name of the product, and click Copy. The new product is added to the Products table.
---
Was this article helpful?
---
What's Next