Installing Mobileforce Web and Mobile Apps
---
Share feedback
Thanks for sharing your feedback!
Mobileforce allows you to access the Mobileforce application outside of the source CRM using a web browser or a mobile device:
Mobileforce web application
From a web browser, all users can directly access the cloud-based Mobileforce applications by entering the applicable URL (https://tiny.cc/Mobileforce), without installing or downloading any other applications. Through this uniform access method you can not only access Mobileforce applications, such as Mobileforce CPQ and FSM, but also, you can access the Mobileforce mobile apps.
Regardless of your organization or role, all users can access Mobileforce web applications via the provided url; however, access to your Mobileforce applications is based on your log in information. Based on your role in your organization, the Mobileforce web apps may provide (or restrict) access to specific screens and objects within those applications,
Note:
If you obtained a license to Mobileforce apps through a CRM (i.e., the CRM App Marketplace), then you would access Mobileforce Apps directly from the User Interface for the CRM.
In these instances, Mobileforce Apps are embedded as an iFrame with the same look and feel as the source CRM,
Mobileforce Mobile Apps
Mobileforce mobile apps are native to your mobile device, so they are available for download from both the Apple App Store, and the Google Play store.
Additionally, you can access all Mobileforce Apps by clicking the following link: Mobileforce Apps. This includes both the Mobileforce apps for your mobile device as well as the Mobileforce web apps for both FSM and CPQ.
Note:
For some customers, Mobileforce may provide a custom link (for example https://tiny.cc/companyname to download the custom Mobile app.
In this case, since you are not installing your app from the Apple AppStore or Google Store, you may have to follow additional security steps to install and access the Mobileforce app on your mobile device.
Accessing Mobileforce Apps
When you access Mobileforce Apps, you must specify the unique Account ID for your organization. The Mobileforce administrator for your organization worked with Mobileforce support to create this unique ID during installation/implementation.

From the Mobileforce credentials page, enter the username and password provided by your admin.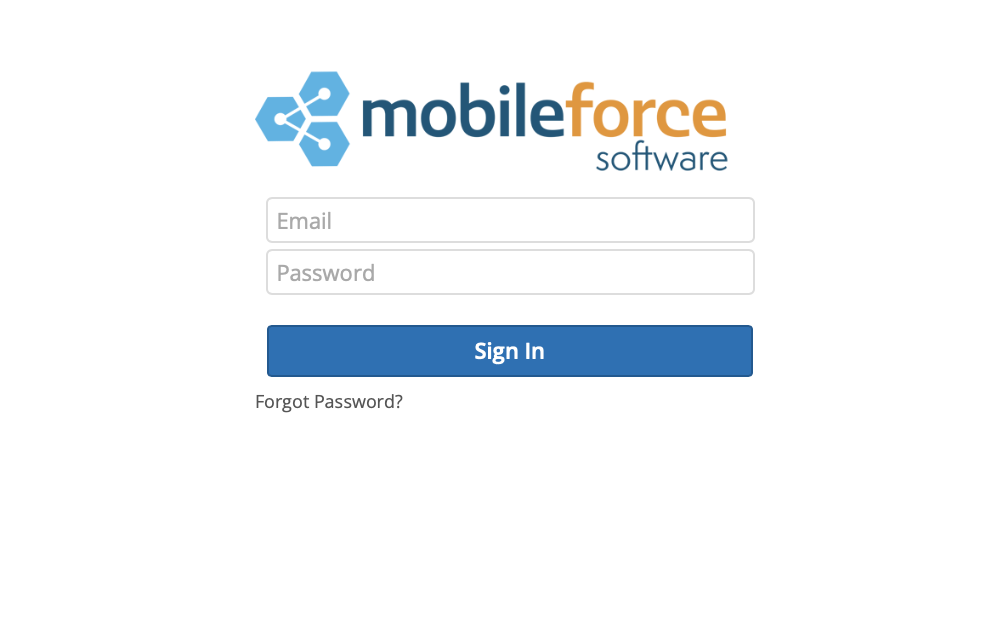 Note:
The Mobileforce admin is also responsible for setting up individual users and roles within the company's administrative portal.
Forgot Password
If you've forgotten your password, click the Forgot Password link to request a password reset.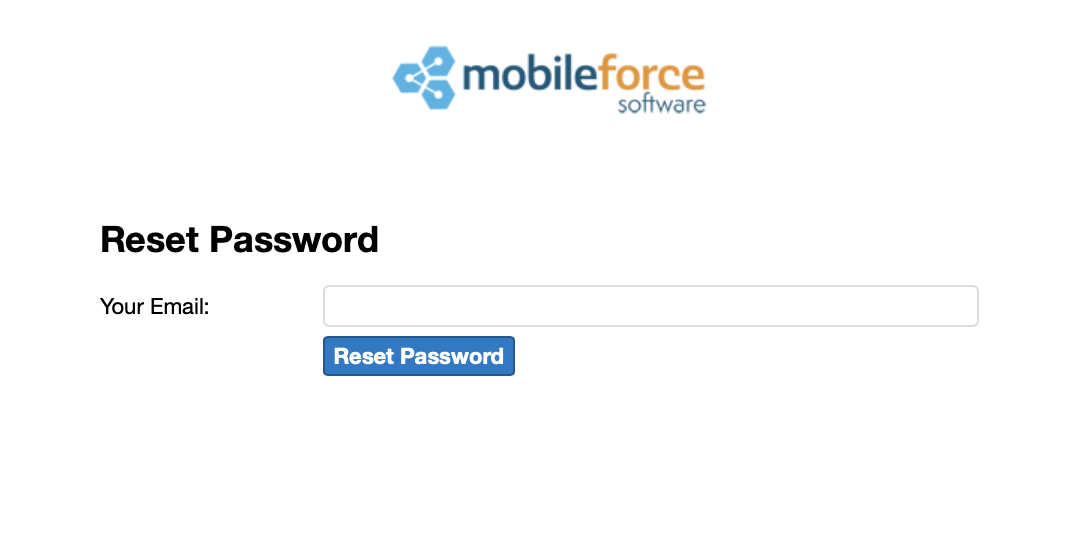 Installing Mobileforce Mobile Apps
The following sections describe how to install the mobile apps, for both iOS (iPads and iPhones) or Android operating systems.
On iOS
The Mobileforce app for iOS can be installed directly from the App Store or by using the Mobileforce Apps link.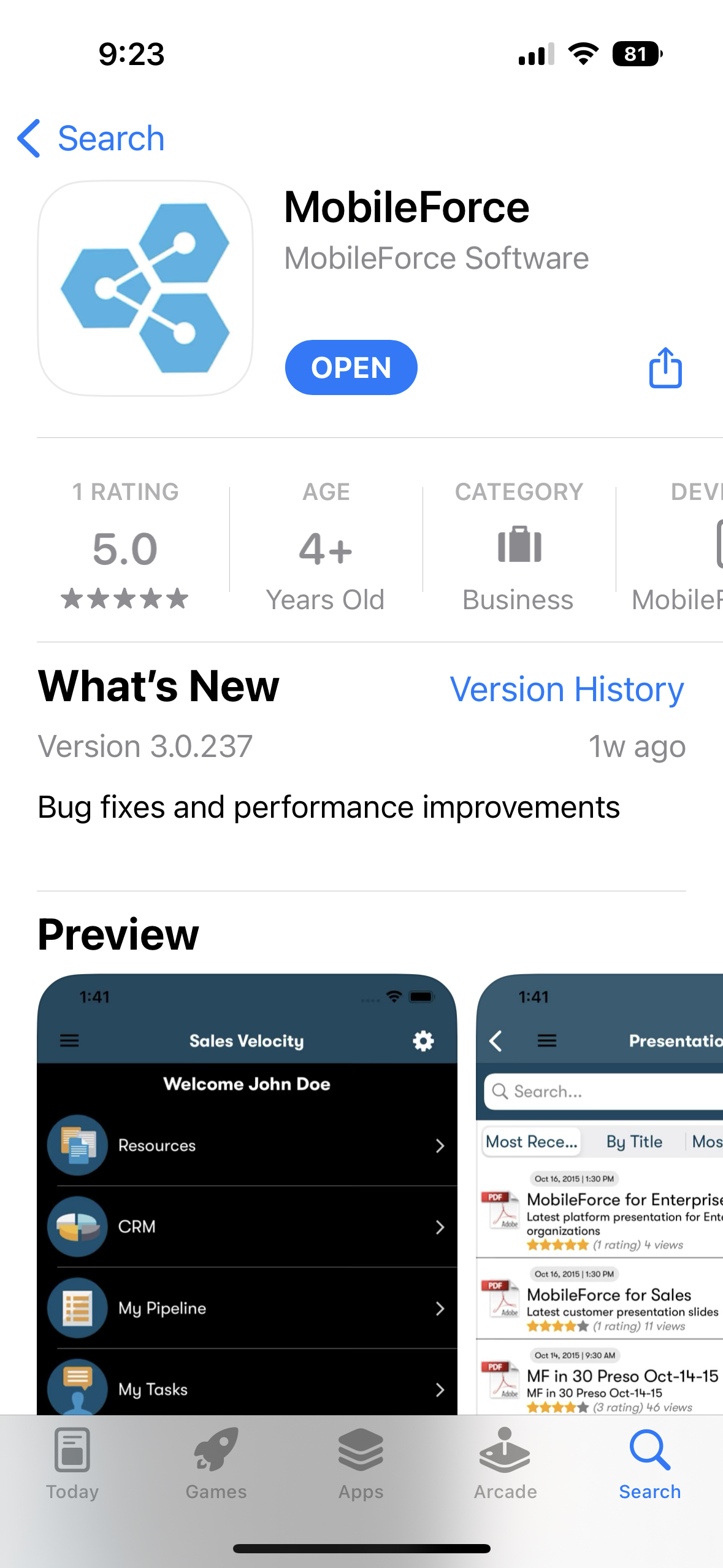 If you try to install the Mobileforce App without telling your device that it is a trusted app, you will get the following error: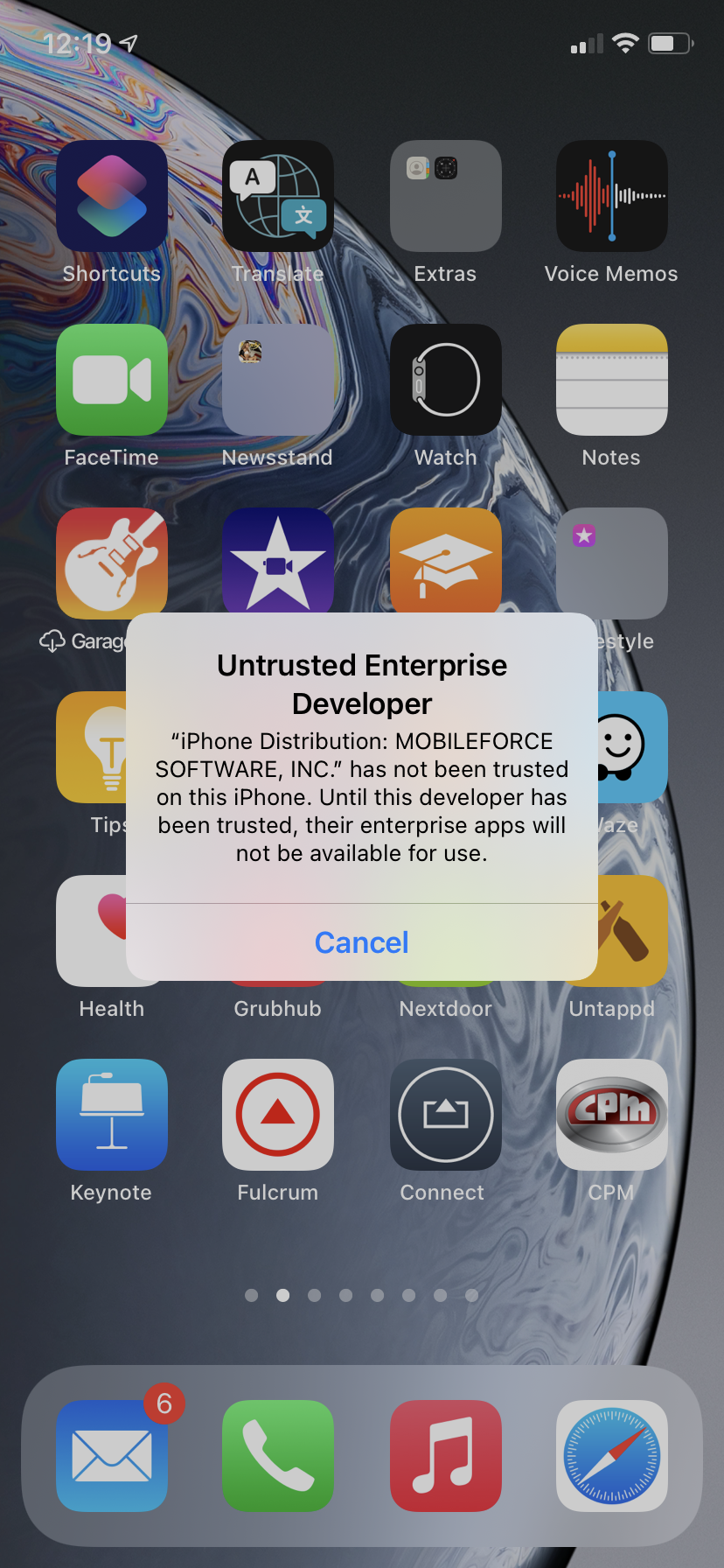 To avoid this error, please do the following:
From the iOS Settings app, select General=>Device Management.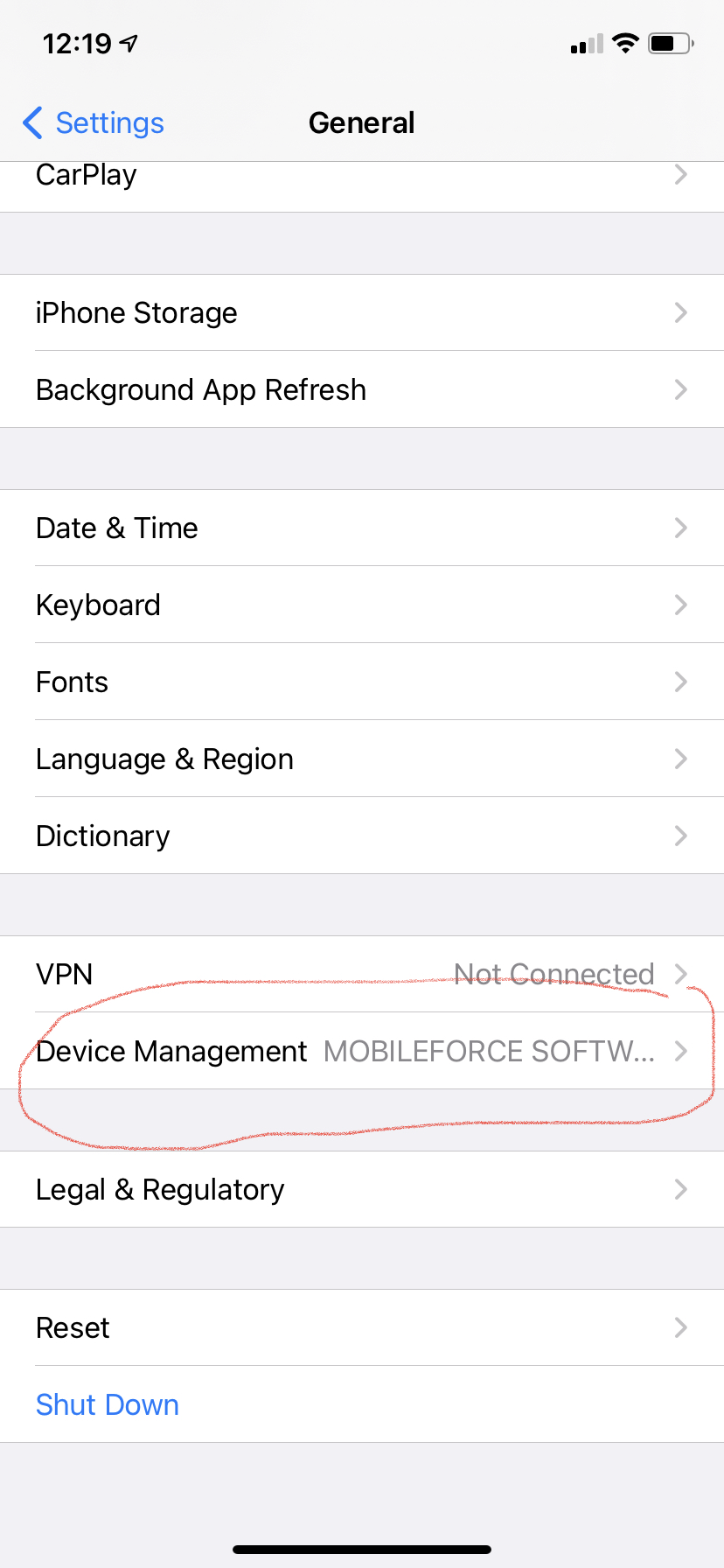 Select Mobileforce SOFTWARE, INC.
Select Trust Mobileforce SOFTWARE, INC.
From the confirmation window, click Trust .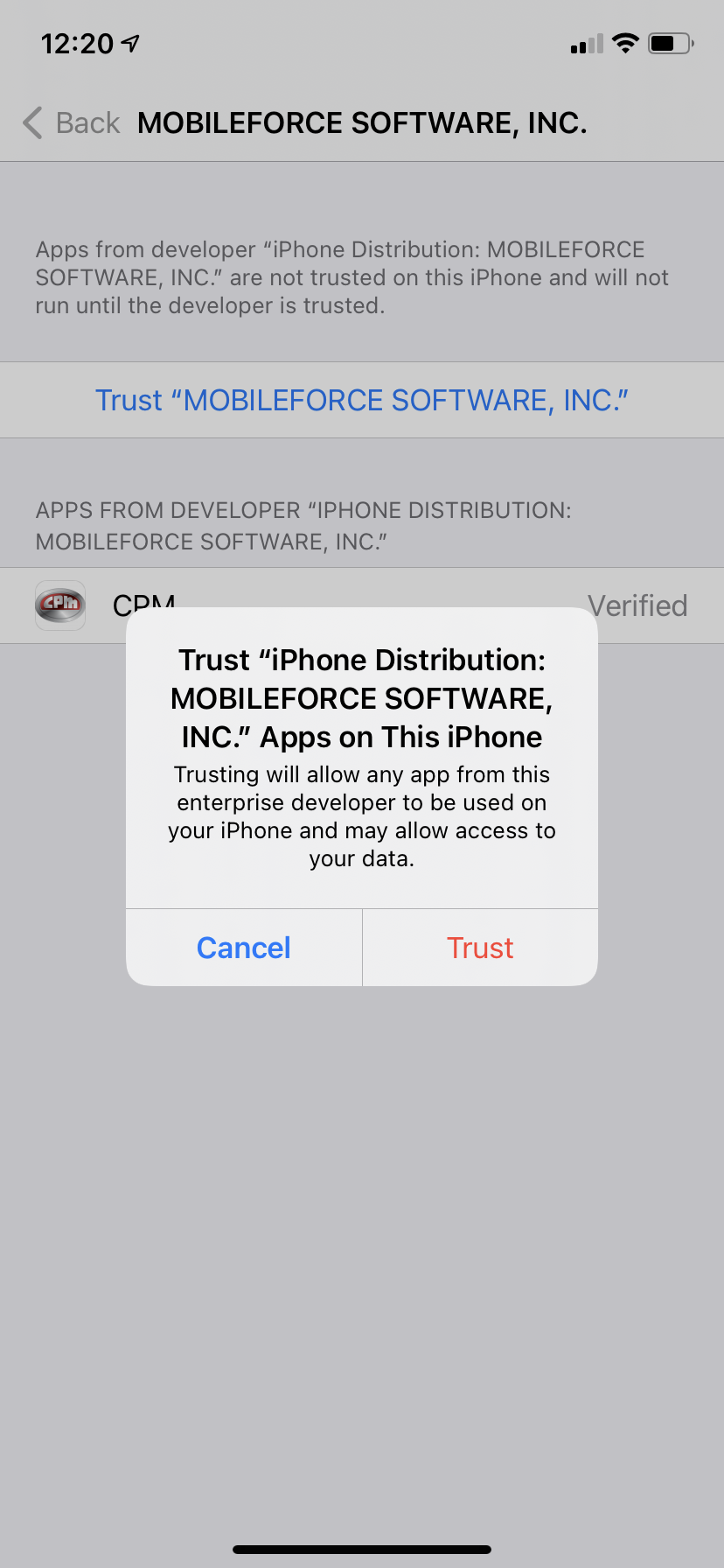 Now, you can access the Mobileforce App on iOS device using your credentials. Please see the following screenshots:
Android
The Mobileforce app for Android can be installed directly from the Google Play store or by using the Mobileforce Apps link.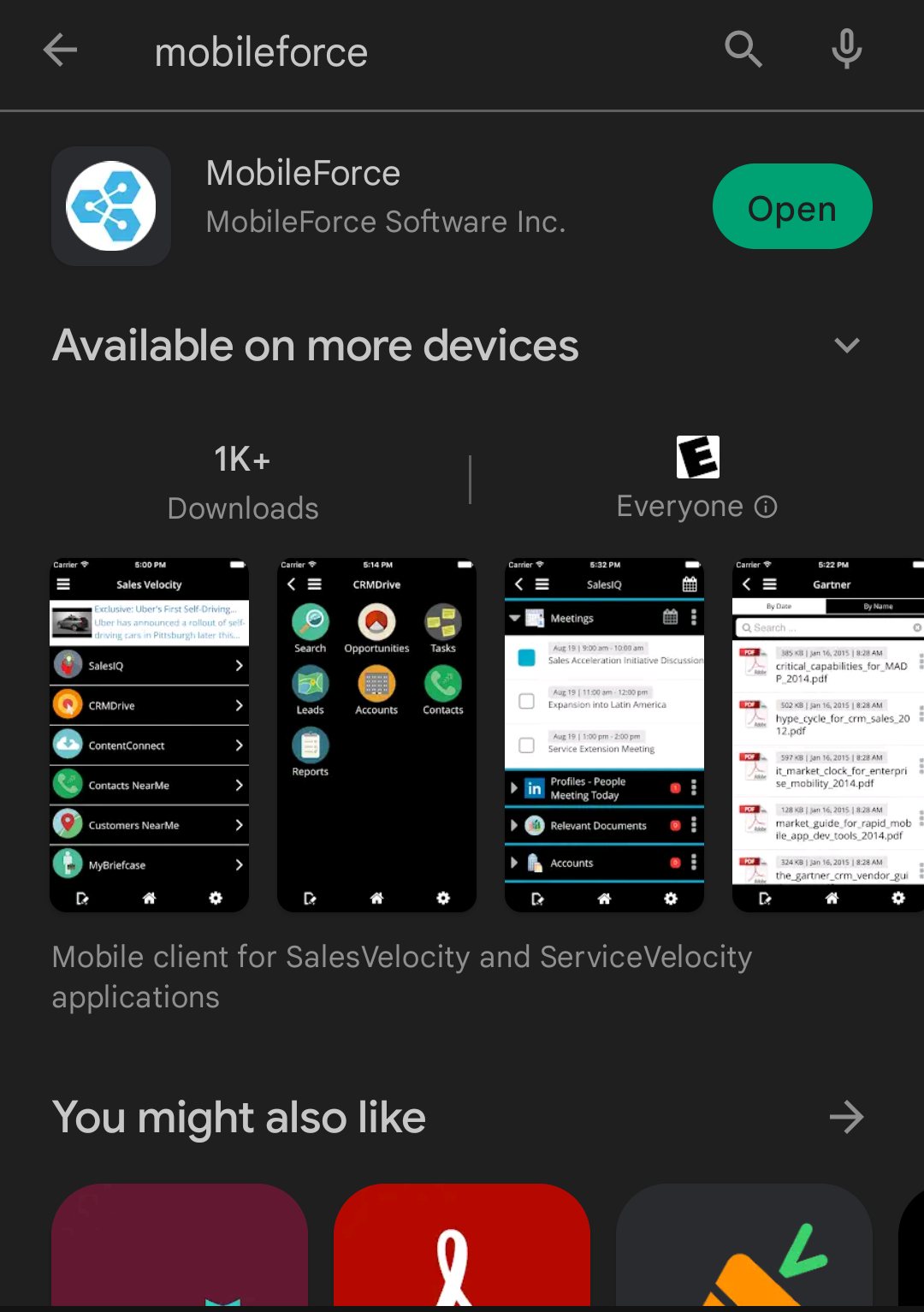 By default, Android won't allow you to install apps that are not being installed from Google Store apps.
Please follow the instructions on the following link to install your custom-branded Android app on your Android device:
Once you complete these steps, you can access the Mobileforce App on your device.
---
Was this article helpful?
---
What's Next