Share feedback
Thanks for sharing your feedback!
Mobileforce roles allow you to define the roles and functions of Mobileforce FSM.
Example:
Mobileforce FSM roles are completely configurable and customizable based on your organization's needs. The most common Field Service roles are the following:
Admins: Users who initially create other FSM users, tables, and relationships to configure Mobileforce FSM to the needs of your organization.
Agents: Users who create service tasks based on customer requests (from emails, phone calls, chat, or text messages). Agents typically assign Service Tasks to a specific office to be scheduled.
Dispatchers: Users who schedule Service Tasks assigned to their office, as well as route and dispatch Technicians between appointments.
Technicians: Users who complete Service Tasks in the field, based on their configured schedule.
You can configure these roles to restrict users from specific pages and functions
For example, you can specify that users assigned the Dispatcher role have access to the Schedule & Dispatch page; however, users assigned the Technician role do not.
All roles must be assigned to a Parent Role. Mobileforce provides a default role that has no parent.
Click the

button to open the Setup menu.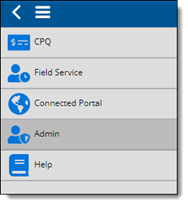 Select Admin and then select Roles from the Admin menu.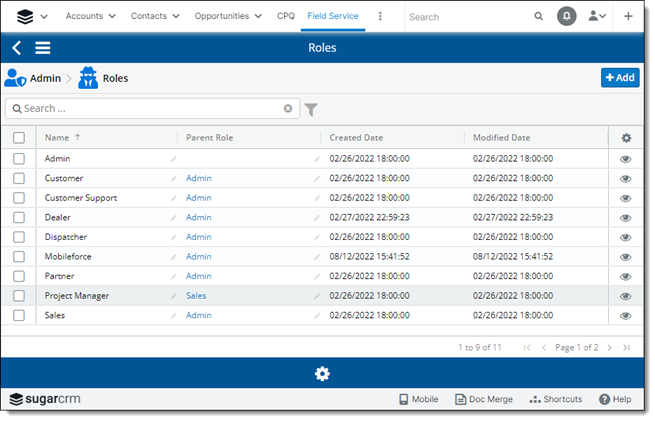 From here you can:
Click the button to create a new Mobileforce FSM profile.
Click the button for an exisitng role to edit it.
Click the icon of a field of an existing profile to edit that field.
Filter the Role table to show only the results you need. For more information, see Filtering Tables.
Create a new role
To create a new profile, click the

button.

Specify the role details and then click

when finished.
Role
Enter the name for the role.
Parent Role
Click the drop-down list and select a parent role to assign to the role.
Enter the name of the role and select the parent role
Edit an existing role
To change an existing role, first click the

button to open the profile page.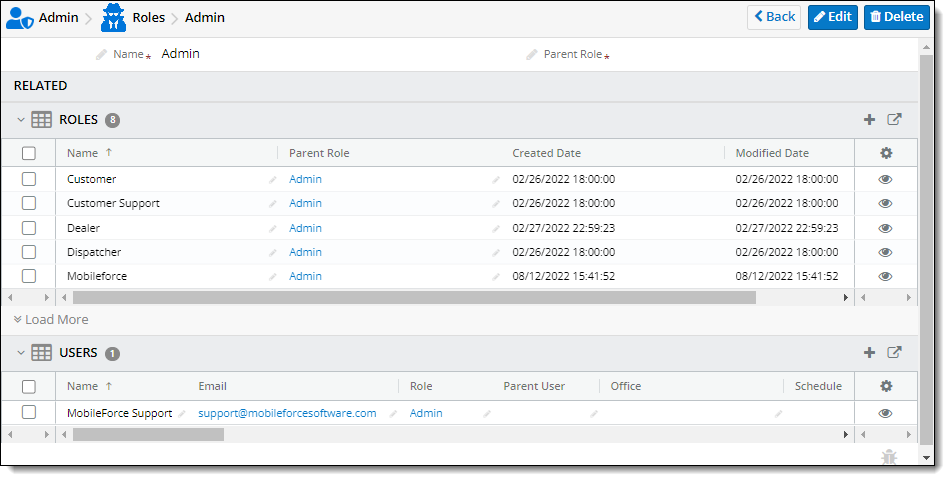 The page lists the information entered for the role and the following related subtables:
From this page you can do the following:
To edit the selected office, click the button.
To create a new related object (for example, Users), click the button.
To edit one of the related objects, click the associated button.
To open the table for the related object type, click the associated button.
---
Was this article helpful?
---
What's Next