Using Mobileforce FSM with Sugar CRM
---
Once you have installed Mobileforce within your SugarCRM instance, you can then launch Mobileforce FSM directly from your SugarCRM user interface.
For more information about setting up Mobileforce Field Service (FSM) with SugarCRM, see Installing and Configuring Mobileforce Sugar Instance.
Mobileforce FSM seamlessly integrates with your CRM, so you can easily access the FSM module from the SugarCRM User Interface.
Additional benefits include:
Same Credentials:
Mobileforce FSM uses your existing SugarCRM user credentials, removing the need for separate Mobileforce credentials.
Embedded User Interface:
The Mobileforce FSM user interface is embedded and accessible directly from the SugarCRM interface with the same look and feel (font, color scheme, and user experience) as your SugarCRM tables.

Access Control:
Mobileforce FSM supports access control of FSM screens and operations using Mobileforce expressions in conjunction with SugarCRM roles.
Launching Mobileforce FSM from SugarCRM
Once you have installed the Mobileforce FSM solution with your SugarCRM platform, you can launch the Mobileforce FSM application directly as a module from the SugarCRM platform directly from the SugarCRM Navigation Bar. From the Mobileforce FSM application, you can perform all the FSM actions
Update the SugarCRM navigation bar
If you want to configure the SugarCRM navigation bar to better prioritize the FSM module, you can configure it using your user preferences, where you can select which modules you want to display, as well as the order they appear in the navigation bar. For more information, refer to the SugarCRM Getting Started documentation.
Accessing the Mobileforce Field Service Module
When you click the Field Service button, the FSM Service Tasks menu is displayed.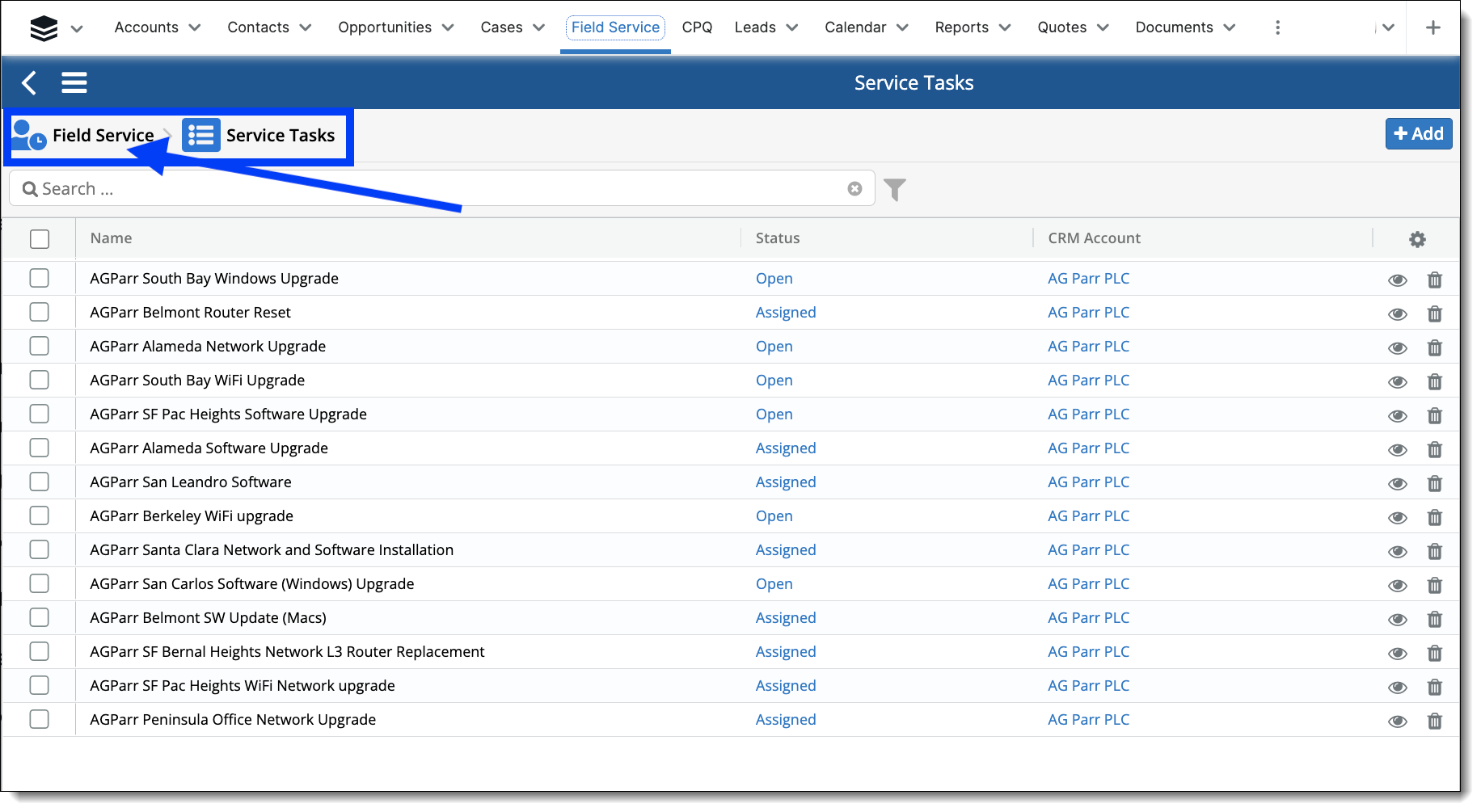 Viewing the Mobileforce Field Service Main Menu
To acces the FSM Main Menu, click the

icon.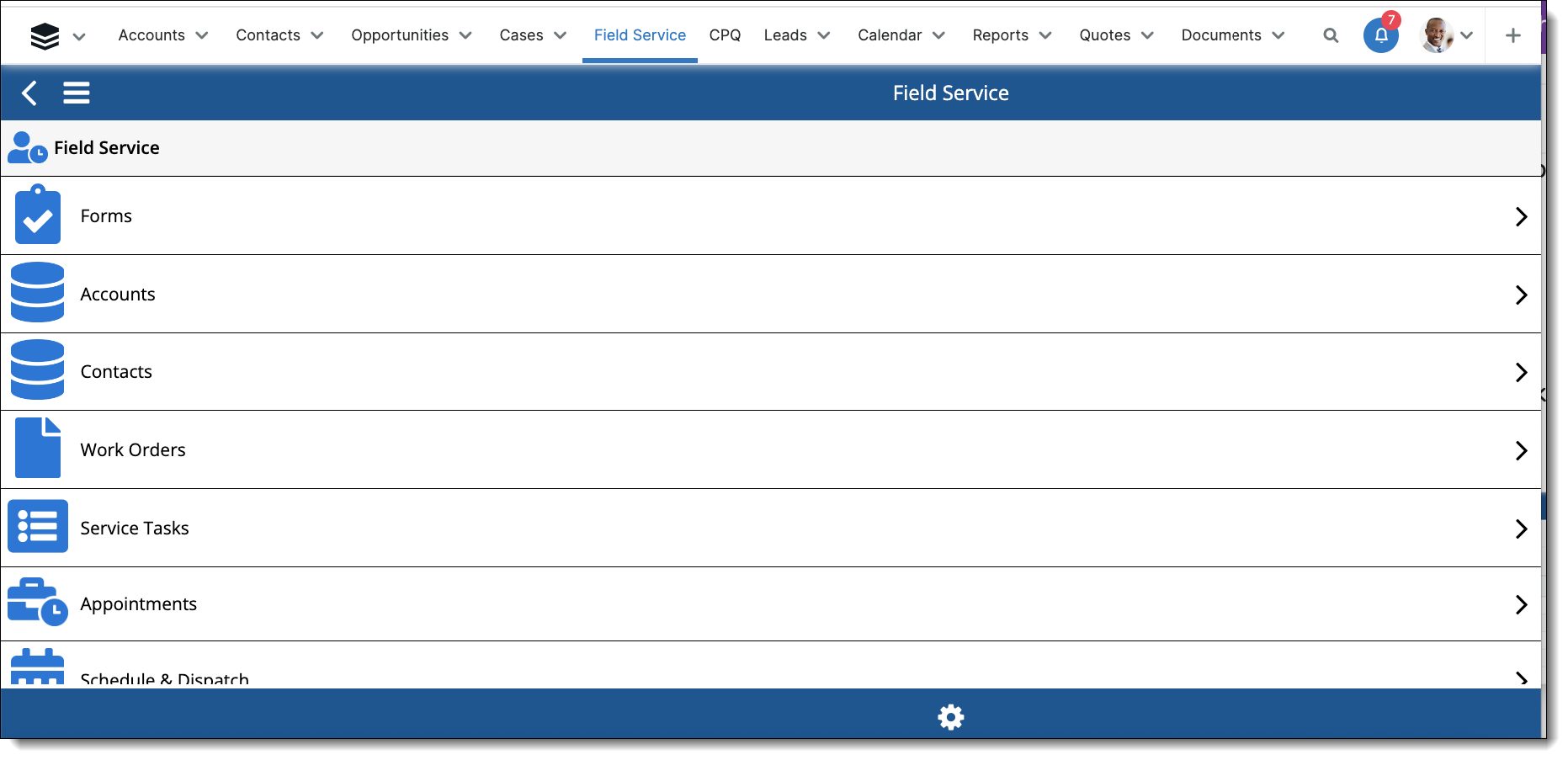 From here, you can select the Mobileforce FSM module that you need.
Accessing Field Service Administration
The last icon in the list of FSM Main Menu icons is "Field Service Setup". Clicking on this icon, takes you to Field Service Setup. See screenshot below: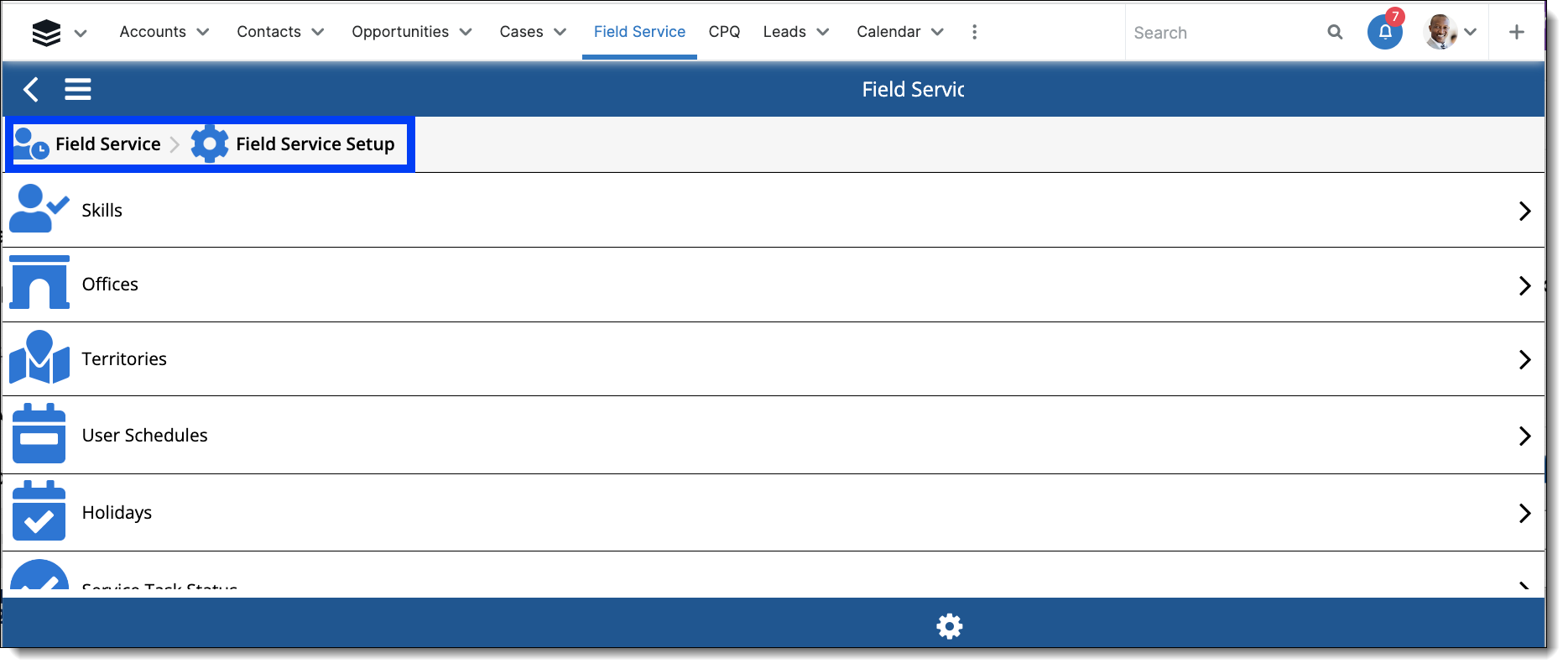 ---
Was this article helpful?
---
What's Next