Share feedback
Thanks for sharing your feedback!
At every stage of the Proposal process, you can validate the data that you've entered. Validating data at each state allows you to identify and correct errors before invalid data can be saved to your CRM.
During validation, Mobileforce compares the data in the Proposal with the business and configuration rules of both Mobileforce CPQ and the associated CRM. If any issues are found, the application generates an error message indicating the issue and makes corrections where applicable.
Note:
The rules that govern products and their validation are specified from CPQ Setup by users with Admin-level privileges. Please contact your Admin for clarification of the business and configuration rules for your CRM, or if you need rules to be modified.
Corrections are typically made with regard to line items added from the Quote tab. The Mobileforce application runs the various rules for quotes to ensure the correct set of products (with correct quantities, discounts, and combinations) are included. For example, if the quote listed a quantity of an item that exceeds the maximum number that can be added to a quote, an error message would be generated.
Additionally, validation can also result in additional required line items being added. For example, if the quote listed an item where a year of product support was included for free (where the year of product support was a listed item in the price book), the Mobileforce application would automatically add the line item for the free year of support to the quote.
You can click the Validate button from any tab in a proposal. MobileForce validates all of the data in the proposal, regardless of the tab currently selected.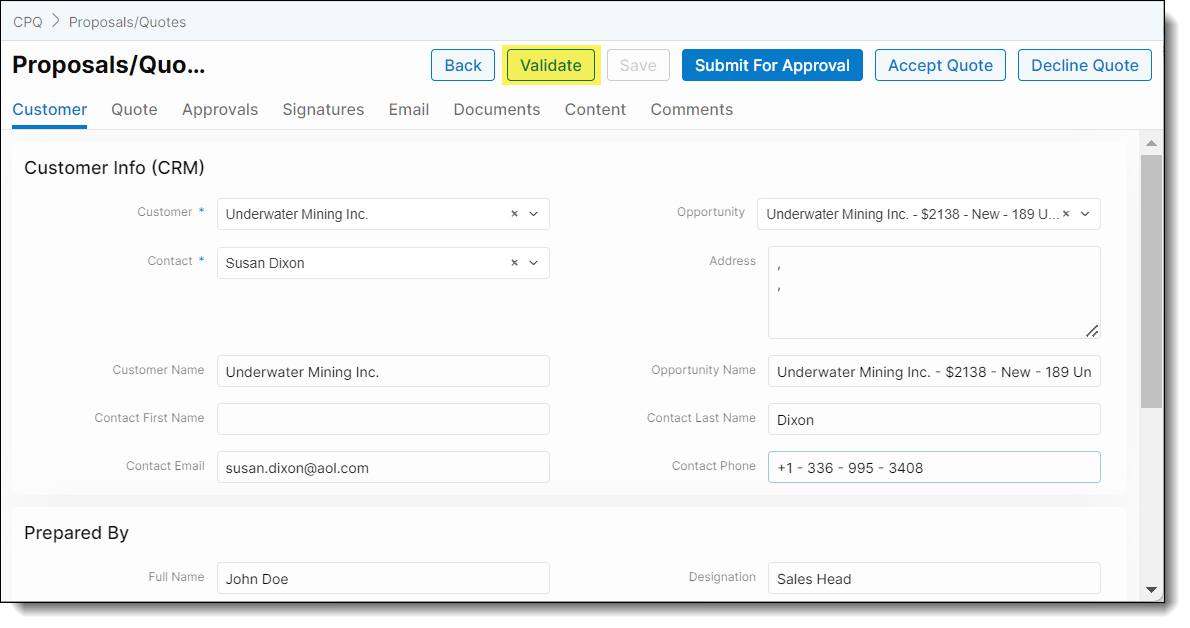 Note:
During installation, configuration, and implementation of the Mobileforce CPQ application, the CRM/CPQ Administrator works with Mobileforce to set up the product rules used in the validation process.
---
Was this article helpful?
---
What's Next